17 March 2014
Transphorm adds first 600V GaN PQFN-packaged products to JEDEC-qualified GaN-on-Si family
At the IEEE Applied Power Electronics Conference & Exposition (APEC 2014) in Fort Worth, TX, USA (16-20 March), Transphorm Inc of Goleta, near Santa Barbara, CA, USA (which designs and delivers power conversion devices and modules) has announced what it claims is the industry's first 600V gallium nitride (GaN)-based, low-profile PQFN products and the expansion of its product portfolio in industry-standard TO220 packages.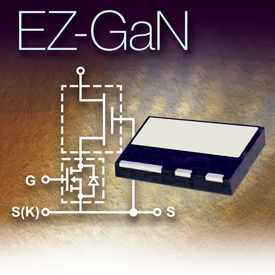 Picture: Transphorm's new PQFN-packaged 600V GaN HEMT.
This follows the introduction of the firm's GaN-on-Si transistor family at APEC 2013 as the industry's first JEDEC-qualified 600V GaN device platform. Transphorm's 600V GaN high-electron-mobility transistors (HEMTs) use the firm's patented EZ-GaN technology, which combines low switching and conduction losses, reducing overall system energy dissipation by up to 50% compared with using conventional silicon-based power conversion designs, it is reckoned.
The new TPH3002LD and TPH3002LS PQFN products are offered in widely used, low-profile PQFN88 packages and feature 290mΩ RDS(on), 29nC Qrr and low inductance for what is claimed to be superior high-frequency switching capability. The PQFN88-packaged LD devices also feature a kelvin connection to better isolate the gate circuit from the high-current output circuit to further reduce electromagnetic interference (EMI).
In addition, the TPH3002PD and TPH3002PS TO220-packaged 600V GaN HEMTs have been released for use in smaller, lower-power applications such as adapters and all-in-one computer power supplies. These devices also feature 290mΩ RDS(on), 29nC Qrr and high-frequency switching capability.
"Every year since 2011 we have announced new advancements of our GaN technology at this major tradeshow," notes president Primit Parikh. "Now, by introducing the industry's first qualified 600V GaN PQFN-packaged products, we have increased the types of applications where GaN can enable dramatically more efficient, compact and low-cost solutions," he adds. "This dispels the widespread misconception that GaN isn't ready for prime-time. Once again we've shown GaN products are available today and are actually being used in a multitude of real-world applications."
The TO220-packaged TPH3002PD and TPH3002PS and the PQFN-packaged TPH3002LD and TPH3002LS are available for sale to qualified customers worldwide, directly or through Transphorm's distribution channels. Additionally, evaluation boards are available with the 600V TO220 GaN HEMT devices in configurations for LLC DC-DC converter, totem-pole PFC (power factor correction) and all-in-one power supply.
Tags: Transphorm GaN-on-Si
Visit: www.apec-conf.org
Visit: www.transphormusa.com