1 May 2014
Cree adds 27°- and 47°-beam-angle PAR38 replacement bulbs for consumer spot and flood lighting
LED chip, lamp and lighting fixture maker Cree Inc of Durham, NC, USA has expanded its LED bulb portfolio with the PAR38 Cree LED bulb family, delivering a PAR38 replacement that uses 80% less energy.
At just $24.97 (or up to 50% less than comparable LED replacements, it is claimed), it uses the same textured glass and standard shape of traditional halogen PAR38 bulbs and is suitable for use outdoors. The PAR38 Cree LED Bulb lasts for 25,000 hours, or 23 years (based on average usage of 6 hours per day).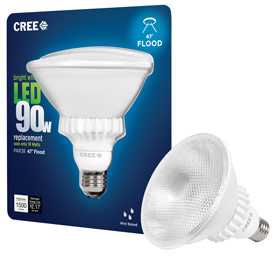 Picture: Cree's new PAR38 LED bulb, with 47° flood beam angle.
"Addressing consumer spot, flood and outdoor lighting applications is the next logical step in growing our LED bulb portfolio," says Norbert Hiller, executive VP, lighting. "The PAR38 Cree LED Bulb provides a lighting experience customers expect, but at a fraction of the energy consumption and cost of a traditional halogen PAR38," he adds.
With a textured inner surface, the PAR38 Cree LED Bulb is available in two beam angles - a 27° spot and 47° flood - and is UL rated for wet locations, making it suitable for outdoor fixtures and security lighting. The 27° spot provides a narrow, focused light for display light fixtures and track lighting, while the 47° flood casts a wide pool of light for general purpose lighting in track and recessed fixtures. Both versions deliver 1500 lumens and consume only 18 watts.
Like all bulbs in the firm's portfolio, the PAR38 Cree LED Bulb is backed by Cree's 10-year limited consumer warranty and available exclusively at The Home Depot. Consumers can purchase PAR38 Cree LED Bulbs online now and in The Home Depot stores in the coming weeks.
Tags: Cree LED light bulbs
Visit: http://homedepot.com/cree
Visit: www.creebulb.com