27 May 2014
SEMI-GAS adds MGE-XS to mini gas enclosure line
SEMI-GAS Systems, a division of Applied Energy Systems Inc of Malvern, PA, USA and a manufacturer of high-purity gas source and distribution systems, has introduced the new model MGE-XS to its mini gas enclosure product line. Created to store and deliver ultra-high-purity process gases from small gas cylinders, the new addition to the firm's range of Xturion custom gas systems also incorporates automatic cylinder switchover capabilities to help minimize manufacturing down-time and operator interaction.
The Xturion MGE line now comes in two process models, each with two separate compartments housing two individual manifolds with separate purge inlets and vent outlets. The original MGE-X houses two process cylinders and two dedicated purge cylinders. The new MGE-XS houses four process cylinders (providing two independent automatic switchover systems) in one compact package measuring 69" high by 32" wide by 27" deep (suiting users that have low-flow applications or are operating in limited space).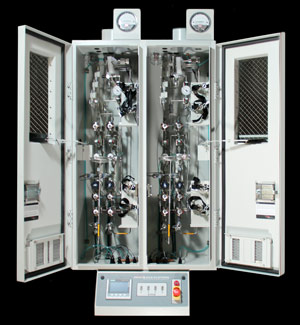 Picture: SEMI-GAS' new MGE-XS mini gas enclosure.
The new mini gas enclosure line features an ergonomically bottom-mounted SEMI-GAS GigaGuard GSM Controller with 4.3" color touch-screen, making cylinder changes and system status monitoring easy, says the firm.
The GSM oversees all of the system's operations, including the monitor and control of all process and purge gas electrical components and pneumatically actuated valves. The controller can function independently or with an optional kit that can communicate via an Ethernet network, enabling centralized, facility-wide equipment monitoring and data collection.
In the event of excess gas flow, fire detection or facility shut-down input, pneumatically actuated emergency shut-off (ESO) valves will interrupt the process gas supply to the manifold lines, initiating an automatic shutdown. A pneumatic ESO button is mounted on the front of the enclosure to manually trigger a system shutdown. In either event, an audible horn and blinking LED status lights notify operators that a risk has been detected.
The exhaustible MGE-XS enclosure accommodates hazardous and non-hazardous gases and is constructed of welded 11-gauge cold-rolled steel. It also includes reinforced rear-mounting holes for wall installations or an optional welded steel rack for free-standing applications. To further customize on-site fit-up of the MGE-XS, each unit features adjustable steel shelves, adjustable cylinder straps and adjustable back- or top-mounted exhaust ducts.
All MGE-X systems meet SEMI S2 and Uniform Fire Code requirements and are equipped with UL-approved fire sprinklers and ¼" safety glass windows. Self-closing and lockable doors and windows, as well as a steel cylinder divider plate and gas identification safety labels, come standard, further meeting the specifications for the safe handling of hazardous production materials.
Internal panel components are orbitally welded, helium leak tested and certified to the highest purity standards. All valves, regulators, transducers, tubing and fitting bodies are 316L stainless steel to prevent corrosion from hazardous gas applications.
"SEMI-GAS created a defining way to deliver low-volume gases with the compact MGE-X, and the XS model is another advance," says division manager Jim Murphy. "Even with low-volume applications, customers want to minimize human-system interaction and maximize process tool up-time," he adds. "MGE-XS accomplishes both these industry demands with automatic switch-over capabilities, while also meeting the same expectations for safety, reliability, quality and minimal footprint found in the original ground-breaking model."
SEMI-GAS mini gas enclosure provides safe, continuous gas delivery for small process and purge gas cylinders
Tags: SEMI-GAS Gas delivery systems
Visit: http://semi-gas.com/Products/Custom-Gas-Equipment/Custom-Gas-Equipment