28 May 2014
Seoul Semiconductor launches high-power Acrich MJT 5050 LEDs for outdoor lighting
South Korean LED maker Seoul Semiconductor has released a new generation of Acrich MJT 5050 LEDs, with high lumen output, reliability and cost performance optimized for the outdoor lighting market.
At a drive current of 20mA and a forward voltage of 64V, the cool-white SAW0LH0A LED, with a correlated color temperature (CCT) of 4700-7000K (5600K typical) and minimum color rendering index (CRI) of 70, delivers typical luminous flux of 180 lumens (at 25°C, 5000K) and can be driven to a maximum current of 60mA (delivering up to 440lm). The 2600-3700K CCT (3000K typical), 80-CRI warm-white SAW8LH0A LED delivers typical luminous flux of 155 lumens (at 25°C).
The new Acrich series delivers a combination of high lumen output, efficacy, reliability and lumens per dollar, says the firm. This results in designs where fewer LEDs are used, which leads to smaller and lighter fixtures, enabling cost savings on a system level. This latest Acrich series delivers high performance without sacrificing reliability or cost, adds the firm, making it suitable for the outdoor lighting market, where high efficacy and lifetime are critical.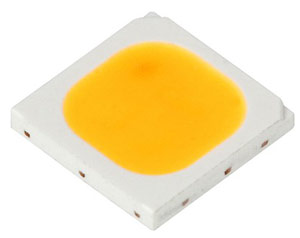 Picture: Seoul Semiconductor's new Acrich MJT 5050 LED for outdoor lighting.
Utilizing proven and reliable Acrich MJT (Multi-Junction chip Technology) high-voltage architecture and with package dimensions of 5mm x 5mm x 0.65mm, the new Acrich LED eliminates the tradeoff between size and efficacy, says Seoul Semiconductor. Designers can take advantage of the high efficiency of high-voltage DC drivers or eliminate the driver by driving the LEDs directly from AC using the Acrich IC.
"In addition to high efficacy and reliability, the TCO (total cost of ownership) is an important metric for the street and area lighting market," states Jay Kim, executive VP of the Lighting sales division. "This product will enable the market to come up with the next generation of high-quality, efficient and competitively priced LED lamps," he believes. "The payback period, especially for streetlights, can be significantly reduced with the new Acrich LED without compromising on reliability or efficiency," Kim adds. "In the future, Seoul Semiconductor will introduce more products to penetrate the outdoor area lighting market."
Tags: Seoul Semiconductor LEDs
Visit: www.seoulsemicon.com/en/html/Product/product_view.asp?catecode=1013