12 May 2014
Veeco launches Apex Gas Mixing System to improve process control and cut costs at 20nm and below
Epitaxial deposition and process equipment maker Veeco Instruments Inc of Plainview, NY, USA has introduced the Apex Gas Mixing System for point-of-use gas mixing. The system generates precise binary gas mixtures on a single platform for use in semiconductor applications at 20nm and below.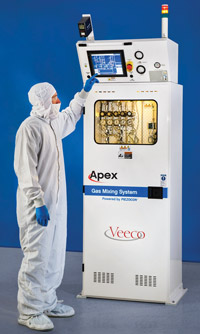 Compared with existing methods, the system improves concentration control, providing tighter process management, increased tool uptime and reduced manufacturing costs. It is optimized for advanced silicon epitaxy applications and other processes requiring low-concentration, high-precision and cost-sensitive gas mixtures.
"The Apex system provides precise control of germane and diborane flux for doped silicon germanium films that have a critical impact on device performance with tight process control limits," says Christopher Morath, senior director, Veeco Flow Technologies Group. "Consequently, the Apex system allows manufacturers to improve real-time process control by up to a factor of ten as compared to mixed gas cylinders. This will enable users to increase both yield and throughput."
Powered by Veeco's production-proven Piezocon Gas Concentration Sensor, the system reduces production costs by allowing manufacturers to purchase lower-cost, higher-concentration gases, then dilute them at the point of use to immediately cut gas purchase costs by as much as 60%, it is reckoned. The total installed base of Piezocon Gas Concentration Sensors is over 3000 sensors worldwide, in both silicon semiconductor and metal-organic chemical vapor deposition (MOCVD) applications.
By using the Piezocon Gas Concentration Sensor to measure and control the mixture in real time, manufacturers eliminate the problems associated with constant flow mixers requiring wasted materials and constant scrubbing, says Veeco, adding to the already substantial cost savings. Using the Apex Gas Mixing System provides stable output and precise control of gas concentration, resulting in higher process tool up-time and eliminating the need to re-qualify after every gas cylinder change. These improvements reduce – and in some cases eliminate – system down-time due to routine cylinder changes. These features allow the system to drive real-time control, high precision and reproducibility, and lower cost of ownership, the firm adds.
Tags: Veeco SiGe CVD MOCVD ALD
Visit: www.veeco.com/Apex