3 November 2014
Everlight unveils 855nm high-power IR LED for CCD cameras and surveillance systems
HIR-C19D series features low thermal resistance, high radiant intensity and ultra-compact size
Everlight Electronics Co Ltd (Taiwan's largest LED assembly manufacturer) has launched the HIR-C19D, a 855nm high-efficiency infrared (HIR) LED that features a low thermal resistance and a high radiant intensity in a very small SMD package.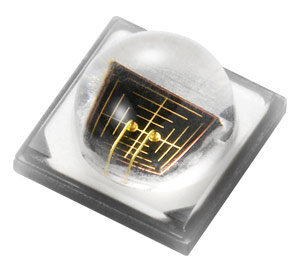 Picture: Everlight's 855nm high-power infrared LED HIR-C19D.
With a wavelength that is nearly invisible to the human eye, the new 3W high-power IR LED is suitable as a light source for infrared illumination in CCD cameras, night guard security and other discrete surveillance systems.
The HIR-C19D-N90/L558-P03/TR series achieves a radiant intensity of 350mW/sr at 700mA with a viewing angle of 90° providing illumination of the area under observation.
The Pb-free device is offered in a miniature SMD package, molded in a water-clear silicone with spherical top-view lens, with a footprint of just 3.5mm x 3.5mm x 2.36mm and a ceramic PCB housing that ensures a low thermal resistance (junction to lead) of only 11°C/W.
Sampling and technical support is available now (upon request). Mass production is scheduled for first-quarter 2015.
Visit: www.everlight.com