6 November 2014
LED lighting to grow to $25.7bn in 2015 as penetration of lighting market reaches 31%
The global LED lighting market will reach $25.66bn and its market penetration will rise to 31% in 2015 as the overall lighting market grows to $82.1bn, according to a report by LEDinside, a division of Taiwan-based market intelligence firm TrendForce.
Despite its lack of large-scale subsidies for LED lighting users, Europe is the largest LED lighting market, comprising 23% of the LED lighting market says LEDinside assistant manager Joanne Wu. She adds that in Europe (where electricity prices are high) demand for LED lighting for commercial and architectural lighting applications is increasing.
China comprises 21% of the overall LED lighting market. As the manufacturing base of most LED lighting producers, China has a complete LED supply chain and many cost advantages, says the report. Traditional lighting manufacturers, lighting OEMs, emerging LED lighting manufacturers, and LED packaging manufacturers are all expanding their LED lighting businesses. This year, developing viable channel distribution is a top priority for vendors in China, says LEDinside. Looking ahead to 2015, the lighting market in China should continue to grow due to stable demand for lighting. However, since the market is highly competitive and there is little variation in product quality between different manufacturers, vendors will compete mainly on price, making the probability of a price war high, says Wu. At the same time, without proper distribution channels, manufacturers will be forced to exit the market, she adds.
The USA comprises 19% of the overall LED lighting market. Currently, there is a push in the industry to obtain certification from the US Environmental Protection Agency (ENERGY STAR) and US-based non-profit organization DesignLights Consortium (DLC). Firms that receive certification from these organizations are eligible for subsidies from local utilities providers. Additionally, LED lighting product quality is improving, aiding US growth of commercial LED lighting. The fastest-growing segment is light tubes.
Japan comprises just 9% of the global LED lighting market. Indeed, the Japanese LED lighting market is relatively mature. LED commercial lighting is already common in Japan's schools, hospitals and retail chain stores. Still, the outdoor and industrial LED lighting segments have considerable potential to expand, reckons the report.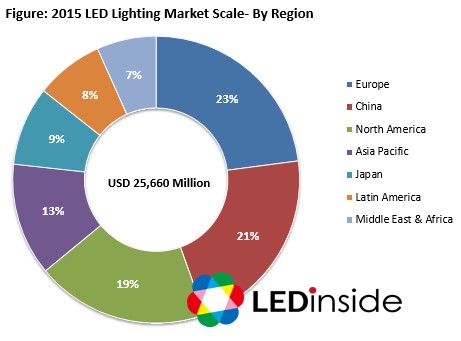 The remaining 28% of the global LED lighting market consists of emerging markets, including Asia Pacific (13%), Latin America (8%) and the Middle East & Africa (7%). Looking ahead to 2015, growth prospects in these markets are especially promising due tof rapid population growth, favorable government policies and an abundance of private-sector LED lighting projects, concludes the report.
Tags: LED market
Visit: www.LEDinside.com