7 November 2014
Solar Frontier installing enhanced CIS production lines in new Tohoku Plant
Tokyo-based Showa Shell Sekiyu subsidiary Solar Frontier – the largest manufacturer of CIS (copper indium selenium) thin-film photovoltaic (PV) solar modules – is installing newly enhanced proprietary CIS production lines at its upcoming production facility, Tohoku Plant. Based on established technology at Solar Frontier's Kunitomi Plant, the improved production lines will enable what are claimed to be best-in-class production costs with new product advantages.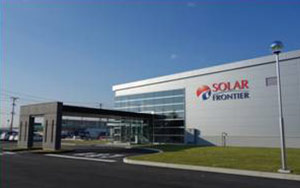 Picture: Exterior of the Tohoku Plant.
On track with its planned construction schedule, the plant is due to be completed in March. The Tohoku Plant features upgrades from Solar Frontier's existing production lines using technology developed in R&D at the firm's Atsugi Research Center (ARC).
"Precise processes such as the formation of the CIGS absorption layer (the heart of CIS thin-film modules), the patterning process, and electrode formation are now faster and can be controlled more accurately," says chief technology officer Satoru Kuriyagawa. "With significant advances in all areas, this factory delivers faster, more compact and more efficient production, in turn enabling significant cost reductions."
The new lines will also enable product upgrades, including adjustments to the voltage and current of the modules. The upgrades should enable more freedom in system design and make placement of cables and other wiring more efficient. Also, leveraging Solar Frontier's record 20.9% conversion efficiency technology, modules coming off the mass-production line should achieve efficiencies of over 15%.
The product improvements build on the performance advantages of CIS technology, which generates more kilowatt-hours per kilowatt-peak in real-world conditions than crystalline silicon panels. Generating more kilowatt-hours per kilowatt-peak installed is a key factor in the financial success of residential rooftop and commercial projects, says Solar Frontier. The firm claims that, whether partially covered by shadow or when operating at higher temperatures, its CIS modules show more robust, stable power output than crystalline silicon panels in real operating conditions.
Solar Frontier says that its Tohoku Plant will become a model for future global expansion, and that the firm is currently assessing possible sites for production facilities outside Japan, in line with worldwide demand growth and Solar Frontier's mid-term growth plans.
Tags: Solar Frontier CIS
Visit: www.solar-frontier.com/eng/photo-journal/index.html