22 October 2014
Analog Devices launches Ka-band HPA and block upconverter for single-carrier SatCom equipment
Analog Devices Inc (ADI) of Norwood, MA, USA (which provides ICs for analog and digital signal processing applications) has launched two Ka-band devices for use in single-carrier satellite communications equipment. The HMC7053 block upconverter and HMC7054 high-power amplifier (HPA) operate in the 29-31GHz frequency output range, feature -60dBc spurious-free dynamic range performance, and cover both commercial and military bands while meeting military environmental conditions.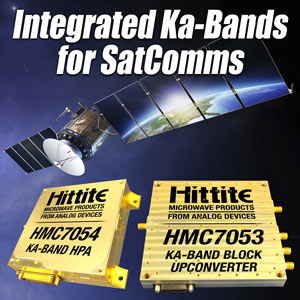 Picture: Ka-band HPA and block upconverter for single-carrier SatCom equipment.
The HMC7053 fully integrated Ka-band block upconverter is upconvertered to 29-31GHz at a linear output power of -30dBm to 5dBm. The 5.72" x 4.51" x 1.63" device (weighing 0.6lbs) features a 1-2GHz dual-input IF at 0dBm typical and 20dB conversion gain. The new module was designed with a dual upconversion scheme to ensure no phase inversion and maximum spurious rejection. Other features include dual L-band inputs, an SMA input and a 2.9mm output connector, digital gain control and thermal monitoring and gain compensation. 
The HMC7054 fully integrated Ka-band HPA achieves linear output power of 37dBm, a 42dB small-signal gain and operates at 5V while drawing 14 amps. The new 5.0" x 4.51" x 1.145" device (weighing 1.6lbs) has a 2.9mm input connector and WR28 waveguide output.
Both the block upconverter and HPA are designed for conduction cooling and operate over the -20°C to +80°C temperature range.
Analog Devices completes acquisition of Hittite
Tags: Analog Devices
Visit: www.analog.com/HMC7053
Visit: www.analog.com/HMC7054