2 October 2014
LED lamp retail pricing falls 19.2% year-on-year in September, as lumens-per-dollar rises by 27%
The global average retail price of LED lamps was $21 in September, down 4.9% on the prior month and 19.2% year-on-year, according to the September 2014 release of the IHS Technology LED lamp Retail Price Tracker.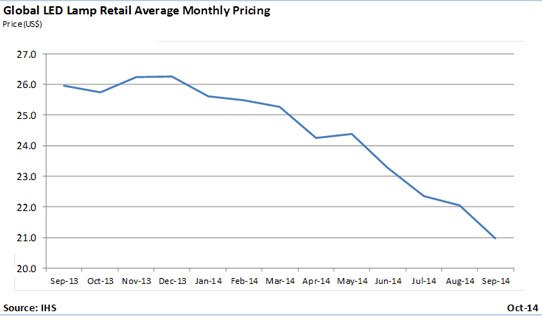 Picture: Global LED lamp retail average monthly pricing.
Over the past 12 months, the lumens-per-dollar ratio of LED lamps has risen by 27.1% to 35.44 lumens per dollar, the report adds.
IHS has been tracking LED lamp retail pricing trends for more than three years. Each month IHS analysts sample 2700 individual LED lamps sold in retailers across 15 countries globally.
Research Note from IHS Technology, providing information on the latest data collected on average retail prices for light-emitting diode (LED) lamps.
Tags: LED market Lighting market
Visit: https://technology.ihs.com/468918/led-lamp-retail-price-tracker-september-2014