2 October 2014
IES recognizes Lattice Power for first high-output GaN-On-Si LED PAR38 lamp
Lattice Power Corp of Nanchang, China, which claims to be the first company to commercialize gallium nitride (GaN)-on-silicon LEDs, says that its new PAR38 LED lamp has been recognized by the Illuminating Engineering Society (IES) Progress Committee as providing an important advancement in lighting. The firm's new proprietary GaN-on-Si LED PAR38 LED lamp delivers what is claimed to be outstanding efficacy, superior brightness and excellent color rendering.
Growing GaN material on a silicon substrate has been a vexing problem for the industry as a result of the material lattice mismatch and thermal expansion mismatch between GaN thin film and silicon substrate, says Lattice Power. These mismatches contribute to defects in the material, cracking on the wafer and poor quantum efficiency of the epi-layer.
By developing a series of proprietary technologies to overcome the mismatch problems, Lattice Power says that it is able to manufacture consistent quality and reliable LEDs, adding that its GaN-based LEDs on silicon substrate offers high light density and better thermal dissipation.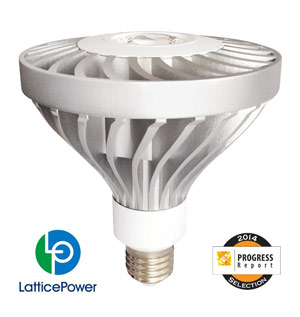 Picture: Lattice Power's 2000lm PAR38 LED lamp, recognized by the IES Progress Committee.
The firm's GaN-on-Si LED PAR38 lamp has what is claimed to be the industry's highest lumen output without active cooling — 2000 lumens at 27W. A thermal pipe heat-sink provides efficient heat dissipation and eliminates the need for active cooling. The lamp is also claimed to have the highest power and lumen density from a single-emitter LED and the lowest thermal resistance from an integrated package (at 0.25C/W). The 27W PAR38 LED lamp is available in various color temperature.
As a vertically integrated company, LatticePower designs, engineers and manufactures all the components in its lighting products, optimizing performance for commercial applications and reducing time to market at scale, says the firm. All products are certified to international standards for the general lighting market, including indoor and outdoor applications.
The IES Progress Report submittals, which consist of new products, applications, research, design tools and publications, are reviewed by the IES Progress Committee, which is responsible for monitoring developments in the art and science of lighting worldwide. The committee consists of lighting industry professionals with expertise in various areas in the field. Each submittal goes through a comprehensive judging process and is evaluated for uniqueness, innovation and significance to the lighting industry.
Tags: Lattice Power GaN-on-Si LEDs
Visit: www.ies.org/progress
Visit: www.lpglighting.com
Visit: www.latticepower.com