24 October 2014
Princeton Optronics launches ultra-high-reliability 8W VCSEL arrays for 3D sensing, imaging and gesture recognition
Princeton Optronics Inc of Mercerville, NJ, USA, which manufactures high-power single- and multi-mode vertical-cavity surface-emitting lasers (VCSELs) and VCSEL arrays, has announced the availability of an ultra-high-reliability, high-power (8W) VCSEL array product with an efficiency of >40% at 60°C and a MTTF (mean time to failure) of >100 years at an operating temperature of 70°C.
The reliability is achieved through improved device processing and a new chip-on-submount mounting technology. The device is directly surface-mountable on printed circuit boards (PCB) and suitable for high-volume manufacturing.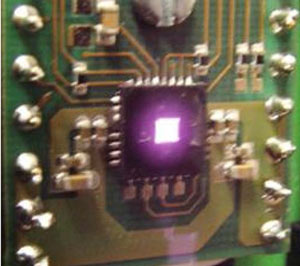 Picture: The new 8W VCSEL array mounted on a submount and on a PC board.
A key application is as an illumination source for 3D sensing or imaging in computers, tablets and cell phones. The VCSEL array can be used for either structured light or time-of-flight (ToF) applications. The high efficiency and high reliability of the firm's VCSEL arrays make them suitable illumination devices for 3D sensing applications. In addition, surface mounting makes them suited to low-cost, high-volume consumer electronics use.
The arrays can be packaged in a variety of configurations for high-volume applications, similar to LEDs. They do not require a hermetically sealed housing, which reduces the packaging cost. Also, optics can be added to the package, creating greater options for beam handling in the customer's illumination system.
Princeton Optronics recently won approval for two patents (US Patent 8,675,706B2 and 8,783,893B1) for surface-mounted VCSELs for illumination applications, making them uniquely positioned for this market, it is claimed.
Tags: Princeton Optronics VCSEL
Visit: www.princetonoptronics.com