16 October 2014
Military GaAs device market to grow at CAGR of 13% to over $0.5bn by 2018
Gallium arsenide (GaAs) device demand from the defense sector will grow at almost three times the growth rate for the commercial GaAs device market, as growing momentum behind the use of solid-state technologies in radar, electronic warfare, communications and other systems will drive increased demand for GaAs devices through 2018, forecasts a Strategy Analytics Advanced Defense Systems (ADS) service report.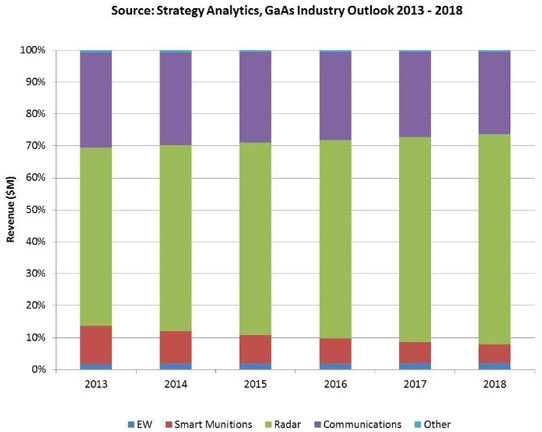 Key findings from the report 'GaAs Industry Outlook 2013-2018', as related to GaAs demand from the defense sector, include the following:
The military GaAs device market will grow at a compound annual growth rate (CAGR) of nearly 13%, exceeding over half a billion dollars by 2018 (compared with a CAGR of under 5% for the overall GaAs device market).
While GaAs devices are used in electronic warfare (EW) and smart munitions applications, the communications and radar applications will drive the bulk of demand.
The largest usage of GaAs devices will continue to come from radar applications, which will account for over 60% of merchant GaAs military market revenue.
"Changing battlefield philosophies, including a shift toward more asymmetric conflicts, will place a premium on electronic capabilities," notes Asif Anwar, director of Strategy Analytics' ADS service. "GaAs devices have traditionally played an important role in defense applications, and future system requirements are driving increasing demand for solid-state solutions which will propel demand for GaAs devices as well as other compound semiconductor technologies," he adds.
"GaAs will also continue to be an enabling technology for commercial markets, with increasingly sophisticated smartphones ramping up GaAs device content as well as growth in non-cellular markets," comments Eric Higham, North American director for ADS. "However, there will be serious challenges in the future as increasing competition from technologies like silicon and gallium nitride (GaN), along with new system and power amplifier (PA) architectures slow the future growth rate in the commercial GaAs device market to below historical averages."
GaAs device revenue to grow from $5.3bn in 2012 to $6.1bn in 2017
Tags: Strategy Analytics GaAs device market
Visit: www.strategyanalytics.com