29 September 2014
Anadigics expands DOCSIS 3.1 CATV infrastructure portfolio with amplifier for 'high-split' return path
Broadband wireless and wireline communications component maker Anadigics Inc of Warren, NJ, USA has introduced a reverse-path amplifier optimized for data over cable service interface specification (DOCSIS) system standard version 3.1. The ARA2032 provides what is claimed to be industry-leading linearity, output power and noise performance over a wider 5-300MHz frequency range to enable advanced CATV services, including higher upstream data speeds.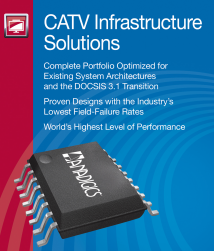 "Our new reverse-path amplifier delivers low harmonic distortion with high output power and gain to ensure exceptional signal integrity," says Tim Laverick, senior VP of Infrastructure Products. "With a complete portfolio of 1.2GHz downstream and 'high-split' return solutions that leverage our rugged process technologies, advanced designs and proven packaging, Anadigics is helping to lead the industry transition to DOCSIS 3.1," he claims.
Anadigics continues to expand its CATV infrastructure product families in support of anticipated network buildouts and upgrades, including the adoption of DOCSIS 3.1. The firm's new infrastructure solutions complement its portfolio of surface-mount line amplifiers, line amplifier hybrid modules, reverse-path amplifiers, optical receivers, and gain blocks.
Anadigics says that, by combining its proven high-linearity GaAs process with GaN HEMT technology, its new infrastructure solutions continue its tradition of delivering high-performance products with reliability. This is exemplified by the new ACA2455 and ACA2456 gallium nitride (GaN) line amplifiers that deliver what are claimed to be the industry's highest output power levels (featured in a proven, thermally enhanced 16-lead SOIC surface-mount package that maximize field reliability).
Anadigics launches high-output GaN line amplifier family optimized for DOCSIS 3.1 CATV
Anadigics' GaN power doubler chosen by European manufacturer for DOCSIS 3.1 CATV equipment
Anadigics launches 1.2GHz GaAs & GaN amplifier family for DOCSIS 3.1 CATV infrastructure network upgrade
Tags: Anadigics
Visit: www.anadigics.com