4 September 2014
LED lamp retail pricing falls 10.49% year-on-year in August, as lumens per dollar rises over 24%
The global average retail price of LED lamps was $22.03 in August, down 1.26% on the prior month and down 10.49% year-on-year, according to the August 2014 release of the IHS Technology LED lamp Retail Price Tracker.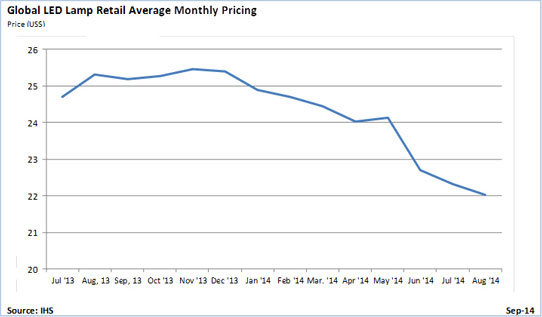 Picture: Global LED lamp retail average monthly pricing.
Over the past 12 months, the lumens-per-dollar ratio of LED lamps has risen by 24.08% to 34.8 lumens per dollar, the report adds.
IHS has been tracking LED lamp retail pricing trends for more than two-and-a-half years. Each month IHS analysts sample 2600 individual LED lamps sold in retailers across 15 countries globally.
Tags: LED market Lighting market
Visit: https://technology.ihs.com/468917/led-lamp-retail-price-tracker-august-2014