30 April 2015
Cree launches 30W Ku-band GaN-on-SiC MMIC high-power amplifier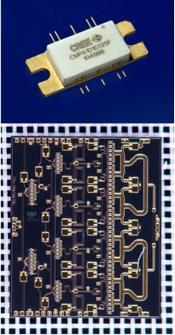 Cree Inc of Durham, NC, USA has launched what it claims is the highest-power Ku-band monolithic microwave integrated circuit (MMIC) available. Covering the 13.5-14.75GHz commercial satcom band, the 30W gallium nitride on silicon carbide (GaN-on-SiC) MMIC two-stage high-power amplifier (HPA) enables the satcom industry to achieve higher-power, more efficient Ku-band solutions than the incumbent traveling-wave tube (TWT) or gallium arsnide (GaAs) solutions used currently, says Cree.
Available in a compact (25mm x 9.6mm), 10-lead, metal/ceramic flanged package (CMPA1D1E025F) or as a bare die (CMPA1D1E030D), the 50Ω Ku-band MMIC HPA operates at a VDD of 40V and delivers satcom measured performance of 20dB linear gain at 42dBm average output power, while maintaining linearity under the -33dBc OQPSK (offset quadrature phase-shift keying) modulation signal, and with adjacent channel power at a drain efficiency of 20%. The 30W GaN MMIC HPA also delivers higher breakdown voltage, power density and thermal conductivity than comparable silicon, GaAs or GaN-on-Si transistors, in addition to wider bandwidth performance, notes Cree.
"Cree's new Ku-band GaN MMIC HPA was specifically designed in response to customer requests for higher-power and higher-efficiency Ku-band amplifier solutions," says Tom Dekker, director of sales and marketing, Cree RF. "Delivering higher power, gain, and efficiency at an affordable price point, this amplifier will set the new standard for Ku-band performance," he claims.
The new 30W Ku-band GaN MMIC is being exhibited in booth #2636 at the 2015 International Microwave Symposium (IMS) in Phoenix, AZ, USA (17–21 May) and will be stocked by distributors Digi-Key and Mouser by mid-summer.
Cree launches 25W 6-12GHz GaN MMIC power amplifier

Visit: www.cree.com/RF/Products/SBand-XBand-CBand/
Visit: www.cree.com/RF/Products/SBand-XBand-CBand/MMIC