28 April 2015
GaN Systems appoints vice president of operations
GaN Systems Inc of Ottawa, Ontario, Canada, a fabless producer of gallium nitride (GaN)-based power switching transistors based on its proprietary Island Technology for power conversion and control applications, has appointed Stephen Coates as VP operations. The newly created post is part of the firm's planned increase in headcount at all levels as it ramps up production of its GaN devices to supply global demand from design engineers.
Coates will be responsible for implementing world-class systems and procedures to handle the firm's rapid growth in shipments and production test data, and establishing a local supply chain management presence in the Far East.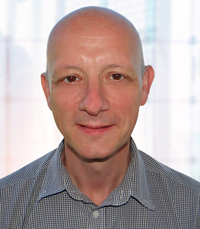 Picture: Stephen Coates, GaN Systems' new vice president of operations.
He joins GaN Systems from DigiLens, where he was head of manufacturing.  With over 25 years' experience as a technology executive in engineering, manufacturing operations and supply chain management, Coates has held executive posts with leading optical components and systems companies and power/HV semiconductor fabrication and packaging organizations, including VP operations at Virtuality/SBG Labs, VP operations at Symmorphix Thin Films Inc, VP operations with Fultec Semiconductor Inc/Bourns, and VP production engineering at MaxQ Technology, heading up power module development.
"He brings with him substantial experience in establishing and developing strategic supply chain relationships to support full product commercialization and high-volume manufacturing, while also being an expert in device packaging and integration," comments GaN Systems' president Girvan Patterson. "His role is a key one as GaN technology and our Island Technology devices become the de facto choice of engineers looking to integrate smaller, lighter and more efficient power electronics into numerous industrial, consumer and automotive applications," he adds.
Coates has an honours degree in Electrical and Electronics Engineering from Nottingham (Trent) University, where he also was engaged as a post-graduate implementing Manufacturing Excellence within the Hawker Siddeley Power Generation, Transmission and Switchgear Groups. He has several patents granted and pending.
Tags: GaN Systems Power electronics
Visit: www.gansystems.com