22 April 2015
Osram launches variable LED family offering design flexibility for automotive lighting
Osram Opto Semiconductors GmbH of Regensburg, Germany has launched the Synios P 2720 family of LED light sources, designed and qualified for use in automotive lighting.
From the outside, the 15 versions in the new family can hardly be distinguished from each other (with all of them having the same solder pad design and package dimensions), but on the inside various chip sizes (with an edge length between 500µm and 1mm), different levels of brightness, and a broad range of colors make the LEDs extremely variable.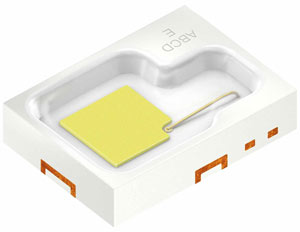 Picture: The new P 2720 Synios family.
Car headlights and tail-light clusters are increasingly becoming identifying features in cars, says the firm. Individual headlight design is the vehicle's signature and increases brand recognition. The compact dimensions and scalable package concept of the light sources provide engineers with greater design freedom, particularly for car headlights. The 2.7mm x 2.0mm x 0.6mm packages are equipped with various chips in different sizes and colors. The LEDs' materials provide high reliability and temperature cycling stability, says the firm. Due to their SMT design, the components can be used in standard processes.
With their 120° emission characteristic and compact dimensions, the flexible light sources are particularly suitable for injecting light into light guides. They can be used in headlights, for example as daytime running lights (DRLs), and perform various functions in tail-light clusters. Due to optimum light extraction from the package and good thermal properties, the LEDs offer more light per cost unit, says the firm. For example, luminous efficiency is 110lm/W in white, and 80lm/W in red.
The Synios P 2720 family comprises three chip sizes with edge lengths of 500µm, 750µm and 1mm (and thermal resistances of 20-30K/W, 10-14K/W and 7-9K/W, respectively), and is available in the following colors: white (Cx = 0.32, Cy = 0.33 as per CIE 1931), converted yellow (Cx = 0.57, Cy = 0.42 as per CIE 1931), yellow (586-595nm), red (612-630nm), and super red (627-639nm).
Depending on chip size, brightness is easy to scale, and various levels can be selected according to demand. Also, due to their identical solder pad design and packages, the various LED versions offer setmakers great flexibility for their processes, allowing the use of various levels of brightness and different colors in applications without the need to change any processes. It is also easier to meet prescribed standards such as ECE and SAE, claims the firm, as product design and solder pad design remain the same.
"Nine of the 15 Synios versions are now available on the market," says Thomas Christl from LED Marketing Automotive. "The remaining InGaAlP LEDs with 750µm and 1mm chip will follow in the summer."
Tags: Osram Automotive LED lighting LED headlamps
Visit: www.osram-os.com