23 April 2015
Osram's Oslon Black Flat automotive multi-chip LEDs win PACE Award
Osram Opto Semiconductors GmbH of Regensburg, Germany has been selected as a winner of this year's PACE Awards (organized by US trade journal Automotive News) in recognition of its Oslon Black Flat product family. The multi-chip LEDs for front headlamps can generate more light from a small package than any other comparable product, it is claimed, giving automotive and headlamp manufacturers greater design flexibility.
Mike Godwin, North American director LED Products, accepted the award on behalf of the company at a ceremony in Detroit on 20 April. This is the third time that Osram Opto has won the award, once again in the Product category for innovation in new products, components or systems that have significant market impact and act as 'game changers' in the automotive industry. Osram's Color-on-Demand conversion LED won in 2006, followed by its Ostar Headlamp family in 2011.
"Since its first white interior LED applications in 2002, Osram Opto Semiconductors has been the most recognized opto-semiconductor company in the history of the PACE awards," notes Peter Knittl, director Automotive LED at Osram Opto.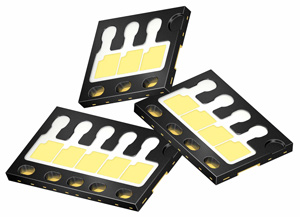 Picture: The Oslon Black Flat family of LEDs.
Launched this year on the Audi A6, the Oslon Black Flat Multi-Chip LED is a new family of forward automotive lighting LEDs that is claimed to be the first to use surface-mount technology to dramatically lower the cost and improve manufacturability of automotive LED lighting assemblies to the point where LED forward lighting is cost competitive with xenon.
Oslon Black Flat LEDs are based on Osram's UX:3 chip technology, which generates very high luminous flux even at high currents, says the firm. This brightness is emitted from a comparatively small package that in turn makes very compact headlamp designs possible. Due to surface-mount technology, all members of the product family can be easily mounted on a printed-circuit board and then processed further as part of standard soldering procedures. This soldering capability enables the LED to be integrated in a simple, standardized process and reduces the complexity of the processing steps, saving considerable time and costs, especially compared with previous multi-chip LEDs, it is claimed. The black QFN (quad flat no lead) package expands in a similar way to the circuit board during cyclic temperature loads, so the soldered joints are exposed to much less strain and are significantly stronger.
Osram's Oslon Black Flat LED now available with two chips
Osram launches Oslon Black Flat LED for automotive front-lighting systems
Tags: Osram Oslon LED headlights
Visit: www.autonews.com/Assets/html/pace_award/winners.html
Visit: www.osram-os.com