9 April 2015
Seoul Semiconductor launches Acrich3 premium line with improved flicker performance
South Korean LED maker Seoul Semiconductor has announced the availability of the new Acrich3 premium LED modules with improved flicker performance for a wide range of residential and commercial lighting applications.
Acrich3 premium expands on Seoul Semiconductor's Acrich3 technology, which has a high power factor (>0.97), low total harmonic distortion (THD<15%) and a flicker index lower than 0.12. Like all Acrich3 solutions, Acrich3 premium modules also comply with international regulations.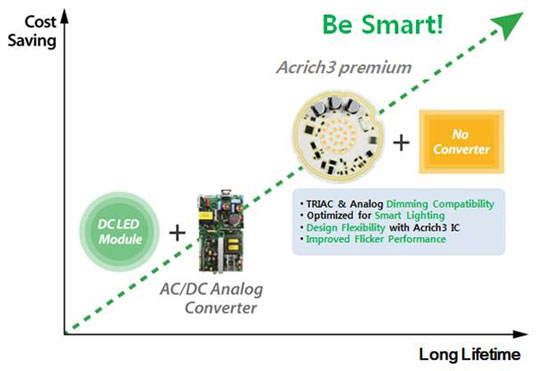 All Acrich3 solutions incorporate an analog dimming input as well as increased compatibility with existing TRIAC dimmers with the capability for uniform dimming. In addition, Acrich3 solutions enable smart-lighting systems with the ability to interface through a wide variety of wireless networks and sensors.
Seoul Semiconductor offers various standard modules available in different lumen outputs and form factors with Acrich3 technology to address a wide range of general lighting applications.
"Acrich3 premium is at the core of Seoul Semiconductor's patent technologies," says chief technology officer Dr Ki-bum Nam. "It provides lighting designers with an easy-to-implement advanced lighting solution without compromising on the performance or the quality of the light output," he adds. "The addition of the improved flicker performance with the Acrich3 premium modules will only further enhance the adoption of the Acrich technology," he believes. 
Seoul Semiconductor launches Acrich3 LED modules
Tags: Seoul Semiconductor LEDs
Visit: www.SeoulSemicon.com