30 April 2015
Soraa adds Bluetooth-controlled wireless option to its full-visible-spectrum directional LED lamps
Soraa Inc of Fremont, CA, USA, which develops solid-state lighting technology built on 'GaN on GaN' (gallium nitride on gallium nitride) substrates, is to incorporate the option of wireless control into its product line, starting with the its PAR30L (long neck) LED lamp. The new wireless lamp is being displayed in booth #757 at LIGHTFAIR International in the Javits Center in New York City (5-7 May).
The wirelessly controlled PAR30L LED lamp provides a variety of customizable remote functions including dimming, control of lamps in user-defined groups, and user-designed pre-set lighting scenes. Soraa says that, as a result of the directional nature of its lamps, for the first time lighting layers can be easily controlled at both the individual and local level, providing flexibility in achieving uniquely lit spaces by dialing in illuminance levels locally.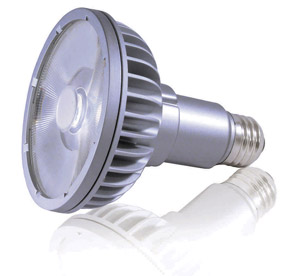 Picture: Soraa's wirelessly controlled PAR30L LED lamp. .
"With wireless lighting, we are freed from the constraints and costs that physical electrical control circuitry imposes on lighting designs," says CEO Jeff Parker. "With omni-directional light sources, the impact of this is still quite limited; however, directional sources create the ability to locally dial-in light levels," he adds. "We believe that our wirelessly controlled directional lamps will become an essential tool for customers, providing unlimited possibilities for achieving lighting scenes that are actually practical to implement."
Soraa will offer its wireless PAR30L lamps in combination with a mobile application that runs on both iOS and Android platforms, and the lamps can form a mesh network and connect in almost unlimited numbers to a smartphone. Utilizing Bluetooth Smart, the lamps can interact directly with smartphones, without the need for a bridge or router and complicated setup. Plus, the lamps can be operated in public mode (accessible to everyone) or private mode (restricting access to a few people).
Soraa will also provide a unique wireless and portable control to replace the traditional wall dimmer switches. Equipped with a multitude of sensors, the battery-powered Soraa Control (developed by Seed Labs Inc) provides an intuitive way to interact with lights without a smartphone.
"Seed Labs' innovative technology changes the way spaces are wired, controlled, and connected," says Seed Labs' CEO & co-founder Rafal Han. "Lighting is the perfect user-preference product."
Suitable for both commercial and residential applications, Soraa's PAR30L wireless LED lamps feature the firm's Point Source Optics, Violet-Emission 3-Phosphor (VP3) Vivid Color and VP3 Natural White technologies, providing a replacement for legacy halogen products. The wireless lamps will be available in third-quarter 2015 and are offered in correlated color temperatures of 2700K and 3000K with a color rendering index (CRI) of 95. The lamp will be compatible with enclosed fixtures and suitable for damp operating environments — Soraa claims to be the only lamp manufacturer that guarantees lamp-to-lamp color consistency within a 3-Step MacAdam Ellipse for PAR30 products. Additionally, the PAR30L 9° LED lamp will work with the firm's magnetic accessory SNAP system. With a simple magnetic accessory attachment, beam shapes can be altered and color temperature can be modified, increasing design and display possibilities.
Soraa unveils LED AR111, PAR30 and PAR38 lamps
Tags: Soraa GaN-on-GaN
Visit: www.soraa.com