28 August 2015
Alfalight receives Wisconsin Innovation Award in manufacturing category for non-lethal laser disruptor
Alfalight Inc of Madison, WI, USA, which designs and manufactures infrared and visible laser and electro-optical systems for defense and security applications, has won the 2015 Wisconsin Innovation Awards honor for manufacturing, citing the firm's novel Non-Lethal Ocular Disruptor with Enhanced Safety (NLOD-ES). Winners in ten categories were selected from 170 entrants and 33 finalists, judged by a panel of 18 industry experts.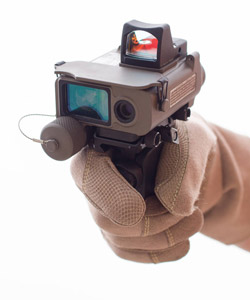 Picture: Alfalight's Non-Lethal Ocular Disruptor-Enhanced Safety (NLOD-ES) laser system dazzles vision to act as a safe, stand-off warning at checkpoints and for crowd control.
Alfalight developed the NLOD-ES to meet the needs of the US military. Serving a wide variety of applications, the NLOD-ES laser projects an intense, precisely metered, green light over a kilometer, temporarily impairing vision. The optical disruptor acts as a safe, stand-off warning applicable to drivers of vehicles approaching checkpoints as well as for crowd control.
The NLOD-ES uses novel laser technology to protect troops and civilians in conflict and war zones. The device provides for effective medium-range engagement with individuals whose intent is unknown, while Alfalight's unique laser power modulation algorithm with full range-finder integration controls the power on target to avoid the risk of injury while delivering its dazzling light beam. The intense green beam can be used for hailing, warning, suppression (due to temporary vision impairment) and illumination. The NLOD-ES is battery operated, compact and highly ruggedized; weighing less than 12 ounces, it is usable both in hand-held and rifle-mounted configurations.
"The rugged and portable nature of the NLOD-ES puts innovative technology in the field where it can support the mission by saving lives every day," says director of product marketing Rob Williamson PhD. "This product is a testament to our research and development, product engineering, and manufacturing groups," he adds. 
Tags: Alfalight Diode lasers
Visit: www.wisconsininnovationawards.com
Visit: www.alfalight.com