4 August 2015
Asahi Kasei orders Aixtron CCS MOCVD system to start commercial production of DUV LEDs
Equipment maker Aixtron SE of Herzogenrath, near Aachen, Germany says that Tokyo-based chemical company Asahi Kasei has ordered a Close Coupled Showerhead system (CCS) metal-organic chemical vapor deposition (MOCVD) system, for delivery in third-quarter 2015, for pilot production of deep ultraviolet (DUV) LEDs based on aluminium gallium nitride (AlGaN).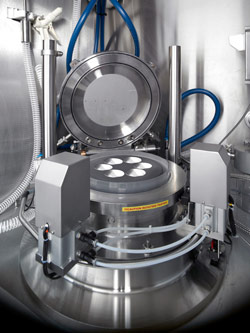 Picture: Aixtron's Close Coupled Showerhead system, in 6x2''-wafer configuration.
Aixtron says that Asahi Kasei's decision to purchase a Showerhead reactor for DUV LED production is based on the positive experience with a previous MOCVD tool already in operation. It chose Aixtron's proven CCS technology again as it enables the optimization of the chamber geometry for both high- and low-pressure regimes by the additional dynamic chamber height adjustment.
"Our MOCVD tool enables pilot production as well as R&D applications with processes that are directly scalable to larger systems," says Aixtron's executive VP & chief operating officer Dr Bernd Schulte. "Enhanced by the reliable 3-zone heater, the system also provides excellent temperature uniformity," he adds. "This leaves Asahi Kasei with a very flexible, high-quality tool, perfectly matching the increasing demand for high-performance deposition systems for new application fields such as DUV LEDs."
High-performance DUV LEDs are used for purification and sterilization in applications including industrial and point-of-use (POU) water purification. DUV LEDs are also used in scientific and industrial instruments to measure the purity of water, air, surfaces and biological samples.
Asahi Kasei acquires Crystal IS
Tags: Aixtron MOCVD Asahi Kasei Crystal IS UVC LEDs
Visit: www.asahi-kasei.co.jp
Visit: www.aixtron.com