27 August 2015
LayTec develops new EpiCurve TT for large single wafers in D125 high-speed rotation reactors
In-situ metrology system maker LayTec AG of Berlin, Germany has developed a new version of its EpiCurve TT tool for combined reflectance, wafer temperature and wafer bow measurements on large single wafers in D125 high-speed rotation metal-organic chemical vapor deposition (MOCVD) reactors. The first system will be shipped to a customer in USA in September.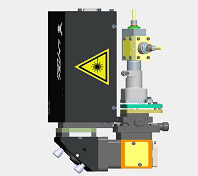 Picture: EpiCurve TT for large single-wafer configurations in high-speed rotation reactors. The EpiTT optical head (right) and Curvature sensor head (left) are combined. The design is extremely compact, enabling upgrade solutions under confined space conditions.
LayTec says that the new version of the EpiCurve TT closes a technology gap formerly existing for large single-wafer confiurations in high-speed rotation reactors due to the limitations of scanning single-beam deflectometry. In the system, LayTec combined its high-resolution multi-beam wafer bow sensing with three-wavelength reflectance and wafer temperature measurement.
The system is equipped with LayTec's latest EpiNet software package, which allows thickness and composition monitoring for specific material classes at an accuracy level formerly reached only by x-ray diffraction (XRD), it is reckoned.
Tags: LayTec Metrology MOCVD GaN
Visit: www.laytec.de/epicurve