5 August 2015
Osram launches mid-power Oslon Black infrared LED providing near-range illumination for camera surveillance
Osram Opto Semiconductors GmbH of Regensburg, Germany has launched the Oslon Black SFH 4713A, an infrared LED (IRED) with a wavelength of 850nm suited to security applications such as camera surveillance of public spaces, company premises, and entrances to banks and shopping centers. While previous Oslon Black high-flux IREDs were designed for systems with a range of up to 100m, the SFH 4713A supports efficient designs for short- to mid-range infrared illumination systems from 10m to 50m.
To create the new infrared LED, Osram transferred the high-performance technology behind its Oslon Black, with an optical output of over 1W, to the mid-range power class of about 760mW, rounding off its IRED portfolio.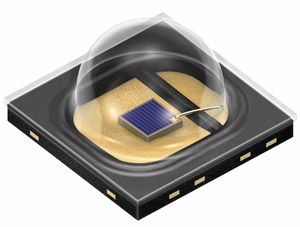 Picture: Latest chip and package technology for the mid-range power class. The high-efficiency 850nm IRED Oslon Black SFH 4713A offers an optical output of 760mW at a current of 1A.
The new IREDs are the result of advances in chip and package technology – developments that enabled Osram, less than a year ago, to engineer an Oslon Black with unprecedented electro-optical efficiency. The SFH 4713A now makes these advances available in the mid-range power classes too. "With this new version of the Oslon Black, our customers can use the same designs they did before for high-end, long-range applications to engineer systems with mid- to short-ranges, all while cutting costs," says IR product marketing manager Rajeev Thakur.
The new high-efficiency IRED offers an optical output of 760mW at a current of 1A. Two to five IREDs are typically adequate for achieving ranges between 10m and 50m. Due in part to the smaller chip size, the new IRED is a lower-cost alternative to Osram's SFH 4715A for systems with mid-range output requirements.
The SFH 4713A is currently available with a beam angle of 90°, but in autumn it will be complemented by the SFH 4714A variant with a beam angle of 150° and an optical output of 720mW.
The new components close the gap between the extremely small Oslon Compact (which offers optical output of 270mW at 0.5A) and the high-output Oslon Black versions (with optical outputs of more than 1135mW at 1.5A). The result is a product portfolio of high-efficiency 850nm IREDs that serves the entire spectrum of infrared lighting applications and output requirements.
Osram launches 48%-efficient infrared LED, boosting output by 30% for security applications
Visit: www.osram-os.com