26 August 2015
Qorvo's Richardson, Texas location wins Corporate Innovation Award
On 21 August at the Tech Titans 15th Anniversary Gala, Qorvo Inc (a provider of core technologies and RF solutions for mobile, infrastructure and aerospace/defense applications) received the Corporate Innovation award for its development of RF solutions and investment in the city of Richardson, Texas.
Organized by the Metroplex Technology Business Council (MTBC, the largest technology trade association in Texas), the Tech Titans Awards celebrate the achievements of leaders from more than 4000 tech companies.
The Corporate Innovation award recognizes technology companies for outstanding innovation and unique accomplishments for breakthrough technology within the industry. MTBC's Tech Titan event recognizes key influencers in North Texas that are impacting the technology and community through achievements that give their organization a competitive edge.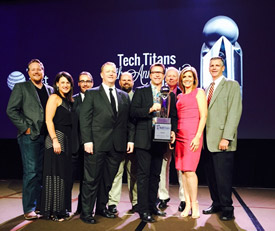 Picture: Qorvo's general manager Roger Hall accepts award. Qorvo team from left to right: Bror Peterson, Brandi Frye, John Zipko, Harold Isom, Bill Sheddrick Roger Hall, Rob Kraft, Katie Caballero, and Eli Reese.
"Qorvo is driving RF innovation for mobile applications with our industry-leading bulk acoustic wave (BAW) technology," says Howard Witham, VP of Texas Operations at Qorvo. 
Due to the demand for BAW filter technology, Qorvo is expanding its manufacturing facility in Richardson. The expansion will result in a major investment in the community, creating over 200 manufacturing and equipment technician jobs.
Qorvo's Richardson, Texas location is the headquarters for the firm's Infrastructure and Defense Products group, and manufactures the building blocks of RF components including gallium nitride (GaN), gallium arsenide (GaAs), surface acoustic wave (SAW) and bulk acoustic wave (BAW), all of which help solve many of the challenges for defense and aerospace applications as well as wired and wireless connectivity.
Tags: Qorvo
Visit: www.techtitans.org
Visit: www.qorvo.com