14 December 2015
GaN Systems wins Global Semiconductor Alliance's 'Start-Up to Watch' award
At the annual awards dinner celebration of the Global Semiconductor Alliance (GSA) on 10 December, GaN Systems Inc of Ottawa, Ontario, Canada, a fabless developer of gallium nitride (GaN)-based power switching semiconductors for power conversion and control applications, was presented with the 2015 'Start-Up to Watch' award.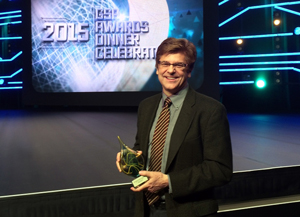 The Start-Up to Watch award is presented to a semiconductor company that demonstrates the potential to positively change its markets or the semiconductor industry in general through innovative semiconductor technology. The award comes from the over 400 GSA member companies that span 35 countries and account for over 75% of the semiconductor industry revenue.
To qualify for the Start-Up to Watch award, three additional award selection criteria must be met: the recipient must be a semiconductor company (either fabless or an integrated device manufacturer), it must be privately held, and it must have a cumulative product revenue of under $20m. The process includes down-selection to four finalists, followed by in-person company presentations to the GSA Private Awards Committee, which consists of senior semiconductor and foundry executives, venture capitalists and select serial entrepreneurs from the semiconductor industry.
"The world is using more electronics and more energy at an ever increasing rate. Without increasing the efficiency of power electronics and reducing their size, the trend is unsustainable," notes GaN Systems' CEO Jim Witham. "Our products help to alleviate the world's exponentially growing appetite for more compact, efficient and cost-effective power management solutions. GaN Systems' innovations allow our products to far exceed the performance limitations of silicon, enabling previously unachievable levels of power conversion performance for consumer, data-center, industrial and transportation applications. Today, hundreds of customers worldwide have developed products with GaN Systems," he adds.
"It is humbling to receive this award from an organization made up of hundreds of esteemed global industry leaders such as Analog Devices, Broadcom, Infineon, Intel, ON Semiconductor, NXP, Qualcomm, Samsung, Silicon Labs, and TSMC," comments GaN Systems' president Girvan Patterson.
Tags: GaN Systems E-mode GaN FETs Power electronics
Visit: www.gansystems.com