4 December 2015
Midsummer's flexible CIGS solar panels installed on sports arena roof
Midsummer AB of Järfälla, near Stockholm, Sweden, a provider of turnkey production lines for manufacturing flexible, lightweight copper indium gallium diselenide (CIGS) thin-film photovoltaic (PV) solar cells, has supplied solar panels to cover the two Tele2 logos on the roof of the new multi-venue Tele2 Arena in Stockholm (one of Sweden's biggest sports and concert arenas). FG Light Energy AB (a subsidiary of Fasadglas AB, one of Sweden oldest companies in the glass and metalwork industry, founded in 1913) was the general contractor and completed the installation of the panels.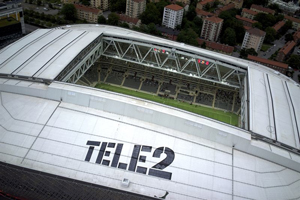 Used mostly for concerts and football matches, the multi-purpose Tele2 Arena (which has a retractable roof) has a capacity of up to 33,000 spectators for football matches and 45,000 for concerts. Inaugurated in late 2013, the arena won the 'Best Venue' award in 2014 in the worldwide competition The Stadium Business Awards.
In Midsummer's solar cells, the CIGS absorber is deposited by sputtering on a 156mm x 156mm stainless-steel substrate, with electrodes on the front to collect current. The cells are then connected in series and covered by a protective layer of plastic to form a flexible solar module.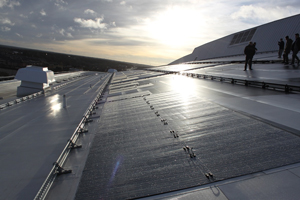 Since a stainless-steel substrate is used, the modules can be made without glass. The CIGS solar modules are therefore much lighter, more flexible and can be made frameless, to suit applications where traditional silicon solar cells cannot be used (e.g. on structures that are uneven, moving or weak).
"This is yet another good demonstrator that our equipment can produce unique products with a high value for the end customer," says Midsummer's CEO Sven Lindström. "The type of membrane roofs normally used on arenas cannot take the load of traditional Si-panels, but the lightweight flexible panels made by Midsummer's equipment can easily be integrated without damaging the membrane," he adds.
Tags: CIGS Thin-film PV
Visit: www.midsummer.se/duo.html