14 December 2015
Raytheon wins NMI Research Collaboration award for optimizing performance of SiC
At the recent annual awards of the NMI (National Microelectronics Institute), the industry trade body for electronic systems in the UK & Ireland) in London, Raytheon UK's High Temperature Silicon Carbide (HiTSiC) Semiconductors team received the 2015 NMI Research Collaboration award for pioneering work with academia and, in particular, Newcastle University.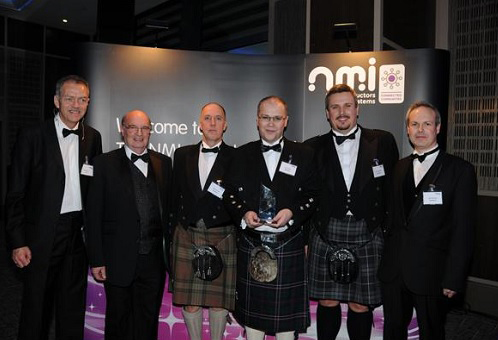 Picture: Left to right: Derek Boyd (NMI), John McLean (Science and Technology Facilities Council), and Robert Young, Dave Clark, Alan McQuilton & Aled Murphy (Raytheon UK). Photo courtesy of NMI.
The HiTSiC team comprises seven process engineers from Raytheon and a graduate – based on site in Glenrothes, Scotland, UK – from Newcastle University. Working under a Knowledge Transfer Partnership (KTP) project, the team is striving to enhance the performance of Raytheon's semiconductor fabrication processes. The endeavours have the potential to further realise the benefits of silicon carbide as a semiconductor material (the properties of which include high switching speeds, lower losses, a high breakdown voltage and an ability to operate at high temperatures). When exploited to the full, SiC-based semiconductors can contribute significantly to more power-efficient – and by extension more environmentally friendly – high-reliability electronic systems and power distribution networks.
"There is an increasing recognition in all industry sectors that employ electronics of the huge potential of silicon carbide - and it's through collaborative projects with academia that we can better access that potential, as well as putting the UK at the forefront of developments," says John Kennedy, head of Raytheon UK's Integrated Power Solutions.
"I have been leading the development of silicon carbide electronic systems for extreme environments for a number of years," says Dr Alton Horsfall, reader in Semiconductor Technology at Newcastle University and the academic lead on the silicon carbide KTP with Raytheon. "It is fantastic to see the impact of our research being recognised through the interaction with Raytheon and the development of commercial components."
One particular area of research that the team is working on relates to better understanding trap defects in the interface between SiC and silicon dioxide (SiO2), which critically impacts on the performance of a metal-oxide-semiconductor field-effect transistor (MOSFET).
"The defects represent a significant obstacle in the mass adoption of silicon carbide technology in a wide range of sectors, such as aerospace, automotive, rail and energy, in which increasingly high-performance devices are required," concludes Kennedy.
Scotland's Raytheon Glenrothes opens SiC foundry
Tags: RaytheonSiC MOSFET
Visit: www.raytheon.co.uk
Visit: http://nmiawards.uk