5 February 2015
EpiGaN appoints chief marketing officer
III-nitride epitaxial material supplier EpiGaN nv of Hasselt, near Antwerp, Belgium has appointed Markus Behet to the newly created role of chief marketing officer (CMO) for its GaN/Si and GaN/SiC epitaxy wafer product lines serving applications in the power switching and RF markets. Behet will lead the firm's global commercial and marketing programs, reporting directly to CEO Marianne Germain.
Incorporated in 2010, EpiGaN was founded by chief executive officer Dr Marianne Germain, chief technology officer Dr Joff Derluyn and chief operating officer Dr Stefan Degroote as a spin-off of nanoelectronics research center Imec of Leuven, Belgium. The founders jointly developed gallium nitride-on-silicon (GaN-on-Si) technology on 6" and 8" wafers at Imec, part of which has been licensed to EpiGaN. In 2011, EpiGaN was joined by a consortium of start-up investment firms, consisting of Robert Bosch Venture Capital, Capricorn CleanTech Fund and LRM enabling the installation of a wafer production facility. In mid-2012, EpiGaN closed its first capital round of €4m, to allow it to start volume production of GaN-on-Si epitaxial material.
EpiGaN says that the appointment of a CMO signals a major strategic step for it in the continuing expansion of its global marketing and sales activities in rapidly proliferating GaN technology, which is being driven towards technology and process maturity.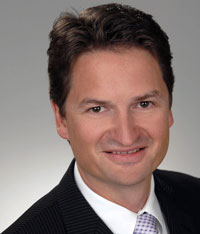 Picture: EpiGaN's new chief marketing officer Markus Behet.
Behet joins EpiGaN from Dow Corning, where he held global market segment positions for their SiC and GaN/Si wafer business. Previously, he worked for Triquint Semiconductor, Infineon Technologies and Siemens, where he was in charge of key marketing, business development and sales positions for GaAs-based RF power and foundry business lines. Earlier, Behet was R&D manager at imec. He holds a PhD in semiconductor physics and electrical engineering from Aachen Technical University, Germany.
"Markus' track record in global marketing and his deep III-V industry knowledge make him exceptionally well qualified for this newly created position," comments Germain.
"EpiGaN's GaN/Si and GaN/SiC wafer technologies will enable the power electronic industry to take the next step of innovation towards more efficient, higher-performance and lower-cost power devices and system solutions," says Behet.
See related items:
EpiGaN wins Global Cleantech Cluster Association's Later Stage Award
EpiGaN named in Global Cleantech 100's inaugural Ones to Watch list
EpiGaN appoints Siemens/Infineon power semiconductor veteran as chairman
Visit: www.epigan.com