2 February 2015
JDSU reports quarterly 40G/100G transmission optical component revenue growth of 30% year-on-year
For its fiscal second-quarter 2015 (ended 27 December 2014), JDSU of Milpitas, CA, USA has reported revenue of $437.1m, up 0.8% on $433.6m last quarter but down 2.3% on $447.6m a year ago (and at the lower end of the $433-457m guidance range). However, excluding about $25m of 3D sensing and OSP last-time-buy revenues a year ago, core network laser and anti-counterfeiting businesses' combined revenue grew 3.5% year-on-year.
The Americas ($189.5m), Asia-Pacific ($149.9m) and EMEA ($97.7m) represented 43.3%, 34.3% and 22.4%, respectively, of total revenue, compared with 44.7%, 31.1% and 24.2% last quarter and 47.8%, 28.8% and 23.4% a year ago.
By application sector, revenue for Network Enablement (NE) was $133.7m (30.6% of total revenue), up 0.7% on $132.8m last quarter but down 14.2% on $155.8m a year ago (and below the $135-145m guidance), reflecting weak US carrier spending, partially offset by growth in mobility. Revenue for Service Enablement (SE) was $45.7m (10.5% of total revenue), up 16.6% on $39.2m a year ago but down 5.2% on $48.2m last quarter (and below the $47.5-52.5m guidance range).
Revenue for Optical Security and Performance Products (OSP) was $50.6m (11.6% of total revenue), up 16.9% on $43.3m last quarter (reflecting growth in anti-counterfeiting business and a slight increase in government business) and just above the mid-point of the $49-51m guidance range, but down 7.3% on $54.6m a year ago (reflecting the exit from lower-margin business, which contributed about $6m a year ago).
Revenue for Communications and Commercial Optical Products (CCOP) was $207.1m (47.3% of total revenue), down 1.1% on $209.3m last quarter but up 4.6% on $198m a year ago (and above the mid-point of the $200-210m guidance range).
Of this, CCOP's Commercial Laser revenue was $40m, marking a third consecutive quarter at or above $40m, up 70.2% on $23.5m a year ago. In particular, fiber-laser revenue rose by 20.1% from $12.4m last quarter to a record $14.9m, driven by strength in Gen2 kilowatt fiber lasers for industrial cutting applications.
CCOP's Optical Communications revenue was $167.1m, level with last quarter but down 4.2% on $174.5m a year ago, reflecting lower 3D sensing revenue (down from $22m last quarter to $14m) partially offset by higher Telecom revenue and record Datacom revenue (up 17.2% on last quarter). In particular, revenue for higher-speed transmission (40G and 100G) is up 30.3% year-on-year (growing from 43% of overall transmission revenue a year ago and 48% last quarter to 49%).
Sales mix was 73% Telecom, 21% Datacom and 6% Consumer & other (compared with 69%, 17% and 14% a year ago, respectively). The shifts reflect revenue growth in datacoms of 16.4% year-on-year, driven by new products and design wins, notably in the 100G, CFP2 and CFP4 product lines and the substantial reduction in 3D sensing revenue.
The quarter-on-quarter decline in the average selling price (ASP) for Optical Communications components was 3.1% (in line with the expected 10-14% year-on-year for full-year fiscal 2015). 
On a non-GAAP basis, gross margin has grown further, from 48.5% a year ago and 49% last quarter to 49.1%, with gains in each business segment reflecting continued operational discipline, favorable product mix from SE, strength in Commercial Lasers, and OSP's last-time-buy product exits last year.
In particular, CCOP gross margin has grown from 32.3% a year ago and 32.5% last quarter to 33.4%. This was due mainly to higher product mix of Commercial Lasers (for which gross margin rose from 49.4% a year ago and last quarter's record of 50.7% to a new record of 51.8%). In contrast, Optical Communications gross margin was 29%, down from 30% a year ago (reflecting primarily a product mix shift from the decline in 3D sensing revenue) although it has begun to bounce back from a low of 27.9% last quarter.
Aided by strong cost controls (cutting operating expenses sequentially from $173m to $171.6m), adjusted operating margin was 9.9% (above last quarter's 9.1% and exceeding the mid-point of the 8.5-10.5% guidance range, but below 11% a year ago due mainly to higher R&D investments). However, CCOP operating margin in particular has grown from 12.1% a year ago to 12.8% (exceeding the 10.5-12.5% guidance range).
"We continue to experience the benefits of diversification and product differentiation, which drove strength in both gross margin and operating margin at the higher end of the guidance range even as US carrier spend impacted revenue," says president & CEO Tom Waechter.
Net income was $35.4m ($0.15 per share), up from $33.8m ($0.14 per share) last quarter but down from $45.3m ($0.19 per share) a year ago due to lower revenue, higher operating expenses and higher income tax.
Operating cash flow generation has fallen from $54.4m a year ago and $40.8m last quarter to $16.6m (due principally to lower collections during the quarter and higher payables entering the quarter). During the quarter, total cash and investments fell from $880.9m to $867.6m.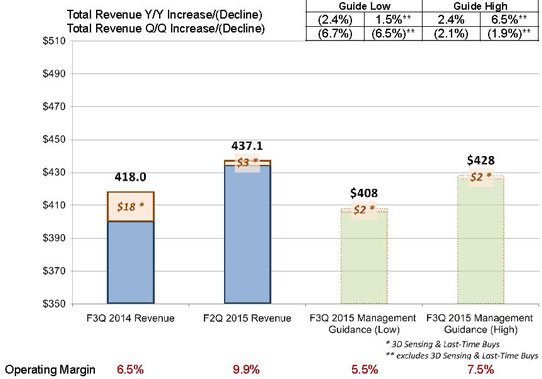 Picture: JDSU's guidance for the March quarter.
For fiscal third-quarter 2015 (ending 28 March), JDSU expects revenue of $418m+/-10m, seasonally down on last quarter but level with $448.6m a year previously. However, excluding about $16m in revenue a year ago due to 3D sensing and OSP last-time buys, revenue should be up 4% for the core networking and commercial laser business. In particular, for CCOP, JDSU expects revenue of $195m+/-$5m (compared with $194.6m a year previously, with increased Optical Communications revenue replacing $8m lower 3D sensing revenue) and CCOP operating margin of 9.5%+/-1% (below target, due to lower Commercial Lasers revenue, reflecting seasonally soft micro-machining sales as well as lighter fiber-laser revenue due to near-term product mix shifts and demand from 4kW to 2kW lasers). Overall company operating margin should fall to 6.5%+/-1%. Earnings per share should fall to $0.09+/-$0.02.
"While the March quarter is seasonally weak quarter, there are encouraging macro trends that are expected to benefit our business in calendar 2015," says Waechter. "Investment spending in the 100G metro market appears likely to begin this year, while Web 2.0 providers are continuing to deploy significant capital in both 40G and 10G infrastructure upgrades," he adds. "In lasers, we recently announced the 2kW direct-diode laser that is expected to replace many CO2 lasers used in sheet metal cutting," Waechter continues. "Additionally, our 6kW fiber laser product will enable us to expand the same opportunity in the welding market."
On 10 September, JDSU announced plans to separate into two publicly traded companies (to be named at a later date): an optical components and commercial lasers company ('SpinCo') consisting of JDSU's CCOP segment, and a network and service enablement company ('NewCo') consisting of JDSU's NE, SE and OSP segments. JDSU expects the separation to be completed by calendar third-quarter 2015. "We plan to file a Form-10 registration statement for SpinCo and to announce a new branding for both companies later this quarter," says executive VP & chief financial officer Rex Jackson. JDSU reckons it is on track to execute on $50m of annual cost reductions, once restructuring is complete. The estimated cash requirements for the separation remains $75-100m. "Our goal is to take substantially all associated charges in fiscal 2015," says Jackson.
JDSU's quarterly revenue falls 3% to $433.6m
JDSU's quarterly revenue grows 7.3% to $448.6m
JDSU's quarterly revenue grows 4% to more-than-expected $447.6m
JDSU's revenue rises 1.8% in Q3 to $429m
Tags: JDSU Optical communications
Visit: www.jdsu.com