2 February 2015
GaN RF device market to grow at 20% CAAGR to nearly $560m in 2019
Revenue for gallium nitride (GaN) RF devices in both military and commercial applications will grow at a compound average annual growth rate (CAAGR) of more than 20% to nearly $560m in 2019, according to the Strategy Analytics Advanced Semiconductor Applications (ASA) spreadsheet model, forecast and outlook report 'GaN RF Market Update: 2014–2019'.
Specifically, military applications accounted for slightly less than 50% of total GaN RF device revenue in 2014, but strong growth in all areas - particularly the communications segment - will propel this to 60% market share in 2019.
"Military applications for RF GaN devices are expanding quickly," notes Asif Anwar, director in the Strategic Technologies Practice. "We anticipate broad adoption of GaN RF devices in radar, communications and EW [electronic warfare] applications will fuel impressive revenue growth."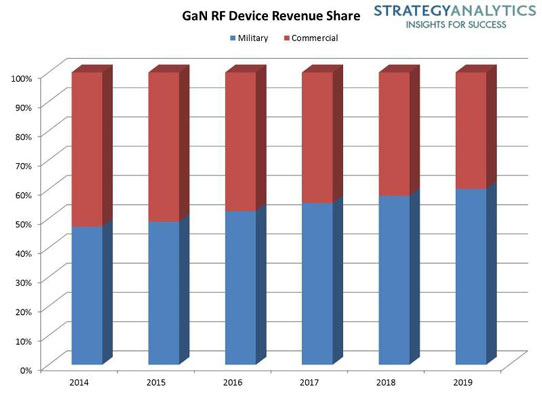 Also, while military applications continue to experience strong growth in GaN device usage, commercial applications for the technology are finally seeing widespread adoption.
The biggest uptick in commercial adoption in 2014 came from wireless infrastructure, says Strategy Analytics. This will remain the largest commercial segment, but decreasing LTE macro-cell deployments in China and a shift to small-cell architectures will dampen the revenue growth rate.
"It is an interesting time in the GaN RF device market," comments Eric Higham, service director, Advanced Semiconductor Applications. "Wireless and CATV/broadband infrastructure PA [power amplifier] applications have taken root and we are seeing initial adoption in other commercial applications," he adds. "Price reduction is still a central theme [as GaN technology looks to capture more market share from LDMOS and GaAs technology] and some initiatives could prove to be very disruptive in the future." 
Tags: GaN RF
Visit: www.strategyanalytics.com/