27 January 2015
Flip Chip Opto launches chip-on-board LEDs with pillar metal core PCBs for high power
LED lighting technology firm Flip Chip Opto Inc of Fremont, CA, USA has launched its P Series of LED flip-chip chip-on-board (COB) products.
The lighting modules consist of patented 3-Pad LED flip chips with a pillar metal core printed-circuit board (P-MCPCB) to substantially reduce junction temperatures, thermal decay and light-emitting surface (LES). Flip Chip Opto says that this enables designers to enhance 'lumen-per-dollar' performance by driving the modules at much higher currents, reducing LED chip counts, heat-sinks and optics.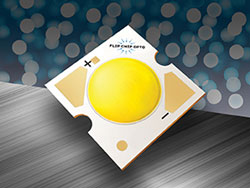 The P-Series COBs feature 45mil x45mil 3-Pad LED flip chips and high flux density in a small LES ranging from 9mm to 30mm, supporting a power range of 24W to 244W - customized correlated color temperature (CCT) and color rendering index (CRI) options are available on request.
The high lumen-per-dollar performance and low thermal resistance (0.02°C/W to 0.11°C/W) make the COB LEDs suitable for high-power luminaires, such as spotlights, down-lights, high-bay lights, street lights and automotive lighting, says the firm. The P-Series modules are designed to fit existing and inexpensive mechanical holders, optics, drivers and thermal components for simple and low-cost integration into existing packages.
The P25-12S3P (19mm LES/122W COB) is available for less than $10 in OEM quantities. Evaluation quantities are available for immediate delivery with standard lead times of 4 weeks.
Flip Chip Opto is demonstrating its products in booth 629 at the Strategies in Light 2015 event in Las Vegas (24-26 February).
Visit: www.fcopto.com
Visit: www.strategiesinlight.com