29 January 2015
Osram launches high-brilliance, high-power 976nm laser bar for fiber-laser pumping
Osram Opto Semiconductors GmbH of Regensburg, Germany says that its new 5mm-wide SPL BF98-40-5 laser bar (consisting of five emitters, each 100μm wide with a cavity length of 4mm, spaced 1mm apart) has an optimized chip design in terms of beam quality, allowing 976nm-wavelength emission with a high brilliance of 3W per millimeter and 1mrad divergence angle (i.e. 3W/mm*mrad) at an optical output of 44W.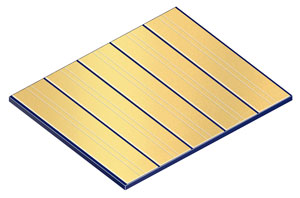 Picture: The SPL BF98-40-5 laser bar.
Osram Opto says that, due to its high brilliance, the laser diode considerably reduces the complexity of coupling light into fibers, and diode- or fiber-laser systems for material processing can be made simpler and more cost-effective. Even at its maximum output of more than 60W, the component has a long life, the firm adds.
Brilliant laser sources generate a narrow beam of light with extremely small beam divergence and high power density. The lateral divergence of the beam emitted by the SPL BF98-40-5 (calculated for the portion of the beam containing 95% of the optical output power) is between 6° at 30W and about 9.5° at 60W.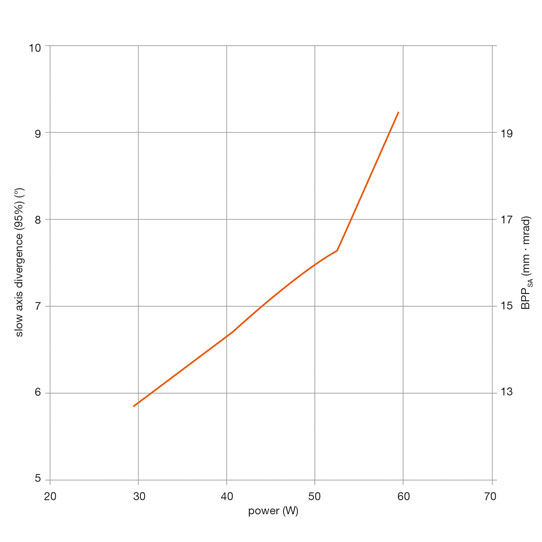 Picture: Beam quality and life-time for optical output up to 60W. Picture: DILAS Diodenlaser GmbH.
Simple injection into fibers
The beam quality of a laser is a crucial factor for coupling laser light into optical fibers. The lower the brilliance, the less light is coupled into the fiber. This, in turn, makes the systems more inefficient and more expensive. Conversely, a brilliant light source greatly simplifies the design of the optical system. "Our new laser bar can significantly reduce the system costs for fiber-coupled diode lasers," claims Sevugan Nagappan, product marketing manager for IR at Osram Opto Semiconductors.
Fiber-coupled diode laser systems are used predominantly in the automobile industry for vehicle chassis welding, soldering and coating. Laser diodes emitting at 976nm are also ideal for pumping ytterbium-doped fiber lasers which, due to their excellent beam quality, can be used for cutting metal. Osram has specifically matched the wavelength of the SPL BF98-40-5 to this pumping application.
Long operating life
The new laser bar offers electro-optical efficiency of 65% at 44W. This reduces the level of cooling needed for the laser diode and improves the efficiency of the entire system, says Osram Opto. The temperature rise at the chip is therefore not as great, so the laser exhibits good aging stability. Tests show a drop in output of less than 1% after 4000 hours of operation at an optical output of 65W and a cooling water temperature of 25°C.
Osram Opto notes that it defined the fundamental principles for developing the high-power high-brilliance laser bar within the HEMILAS project sponsored by the German Ministry for Education and Research (BMBF).
Osram coordinating BMBF-funded project IMOTHEB to develop high-brilliance IR laser sources
Osram's 65%-efficient laser bars provide 200W cw for industrial lasers
Tags: Osram Laser bars
Visit: www.osram-os.com