14 January 2015
Peregrine ships first RF integrated switch to operate at true DC
Peregrine Semiconductor Corp of San Diego, CA, USA – a fabless provider of radio-frequency integrated circuits (RFICs) based on silicon-on-insulator (SOI) – has announced the availability of the UltraCMOS PE42020, which is claimed to be the first RF integrated switch to operate at true DC, zero Hz. The True DC RF switch features high power handling and is claimed to maintains excellent RF performance and linearity from DC through 8000MHz. A reliable alternative to problematic mechanical relays and micro-electro-mechanical systems (MEMS), the PE42020 is suitable for test and measurement (T&M) and automated test equipment (ATE) applications.
"For the first time, an integrated RF switch can operate at DC and truly cover the signal over the entire frequency spectrum," claims senior manager of marketing Kinana Hussain. "Until now, only mechanical relays and MEMS switches allowed DC pass through, and these products are plagued with reliability issues and lack of integration."
Peregrine says that UltraCMOS technology enables intelligent integration (a capability of integrating RF, digital and analog functions onto a monolithic die). The True DC RF switch integrates high-performance RF switching, analog DC tracking and digital control logic and impedance control on a single chip. By integrating these functions, RF engineers gain benefits including greater system capability, improved performance, a smaller form factor, reliability and flexibility, claims the firm.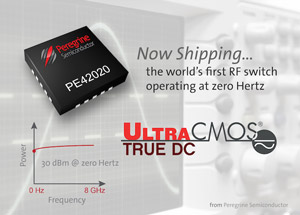 Picture: Peregrine's PE42020 UltraCMOS True DC RF switch, operating from DC to 8GHz.
The PE42020 is a single-pole double-throw (SPDT) True DC RF switch that supports a wide frequency range from DC (zero Hz) through 8000MHz. A configurable 50Ω absorptive or open reflective switch, it exhibits high power handling of 30dBm at 0Hz and 36dBm at 8GHz. It also has a high linearity of 62dBm IIP3, total harmonic distortion (THD) of -84dBc and a high power 0.1dB compression point of 38dBm at 8GHz. The PE42020 features a fast switching time of 10μs, a fast settling time of 35μs and a high ESD rating of 1000V HBM on all pins. In addition, it can handle DC or AC peak voltages in the range of +10V to -10V on the RF ports and DC current through RF active ports of up to 80mA (a first for this type of switch, it is claimed).
Samples, evaluation kits and volume-production parts are available now. Offered in a RoHS-compliant, 20-lead 4mm x 4mm QFN package, the PE42020 is $14 each for 1000-quantity orders and $11.35 each for 5000-quantity orders.
Tags: Peregrine CMOS SOI RF switches
Visit: www.psemi.com/products/rf-switches/pe42020