30 July 2015
GigOptix achieves first quarter of GAAP profitability
For second-quarter 2015, GigOptix Inc of San Jose, CA, USA (a fabless supplier of analog semiconductor and optical communications components for fiber-optic and wireless networks) has reported a fifth consecutive quarterly revenue increase, to $9.8m (up 9% on $9.1m last quarter and up 22% on $8m a year ago, and exceeding April's guidance of $9.3-9.5m). Product revenue in particular was up 10% on last quarter and 31% on a year ago.
"We are seeing strong pull in our High-Speed Communications (HSC) business in both Datacom - with our 40Gbps and 100Gbps drivers and TIAs [transimpedance amplifiers] for data-center active optical cables (AOC) and transceivers - and in telecom - with our linear-coherent 100Gbps and 200Gbps devices used for both long-haul and metro applications," chairman & CEO Dr Avi Katz. "In addition, in our Industrial product line we are experiencing several new business opportunities that are driving continuous revenue growth."
Revenue for the Industrial ASIC (application-specific integrated circuit) product line was $3.2m (33% of total revenue), up 13% on $2.9m last quarter and up 33% on $2.4m a year ago.
The High-Speed Communications business (Datacom and Telecom optical communications products plus wireless RF point-to-point products) has grown further to $6.6m (67% of total revenue), up 6% on $6.2m last quarter and up 18% on $5.6m a year ago. Optical communications remains the fastest-growing segment (expected to continue growing into 2016). In Telecoms, linear coherent 100 and 200Gb/s devices for long-haul and metro applications saw continuous shipment growth (including record 100Gb/s device shipments due to new customers acquired in Q2 plus increasing demand from legacy customers). GigOptix also started qualification shipments of its new-generation 400Gb/s devices for telecom applications (expected to become an increasingly larger revenue opportunity in 2016). In Datacoms, GigOptix continues to see strong demand for 48Gb/s devices for AOC and transceiver integrator customers. "Furthermore, our latest developed 100Gb/s devices continue to experience strong demand in supporting the next generation of data-center connectivity," says Katz. "Both products are in demand due to the growing number of installed new mega data-centers by the Web 2.0 OEMs. In fact, our 40Gb/s QSFP+ devices have become the de facto standard for active optical cables and transceiver installations with many of those new data-centers," he adds. In first-half 2015, GigOptix shipped about 2 million devices to support the new Web 2.0 data-center installations (slightly more than the total volume shipped in the whole of 2014).
On a non-GAAP basis, gross margin has risen further, from 59% a year ago and 62% last quarter to a record 66%, due to a richer product mix and enhanced price and expense control programs.
Operating expenses have been cut from $4.9m last quarter to $4.4m (back level with $4.4m a year ago), driven primarily by tight spending controls and the ramp-down of seasonal expenses in Q1.
"The combination of higher revenue, better margins and on-going strict expense controls translated into record profitability," notes Katz. Net income has risen further, from $0.3m ($0.01 per diluted share) a year ago and $0.7m ($0.02 per diluted share) last quarter to a record $2.1m ($0.06 per diluted share), the fifth consecutive quarter of positive net income (and 50% higher than the $0.04 per diluted share for the whole of 2014). Likewise, adjusted EBITDA has risen from $1m a year ago and $1.4m last quarter to a record $2.8m (the 16th consecutive quarter of positive adjusted EBITDA).
Capital expenditure has been increased from $0.4m last quarter to $0.7m to support continuous investments in innovation as well as enhanced revenue growth. Driven by an inventory build to support new products (primarily in the High-Speed Communications business), inventory has increased from $6m last quarter to $6.8m. Overall, free cash flow was hence $1.1m. During the quarter, cash and cash equivalents correspondingly rose by $0.7m, from $17.7m to $18.4m.
"The all-around record quarterly financial results we achieved in Q2 represent a positive and significant inflection point in the eight-year history of GigOptix, going back to our inception in July 2007," says Katz. "We delivered our first quarter of GAAP profitability, free of non-recurring items, and the highest ever non-GAAP profitability and adjusted EBITDA. This record performance clearly shows the success we continue to achieve with our global growth and scalable strategy," he adds.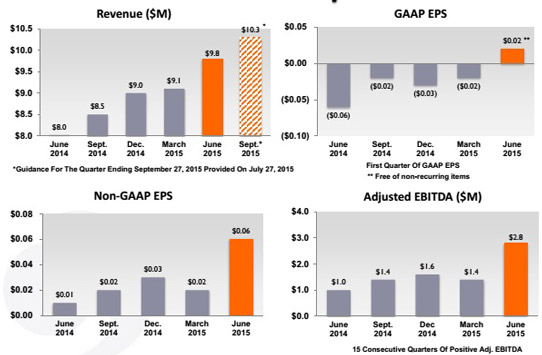 For third-quarter 2015, GigOptix expects record revenue of $10.3m (up 5% on Q2, and 21% year-on-year), while maintaining the high level of profitability (despite operating expenses rising slightly to support the increasing revenue). Gross margin should remain in the mid-60s.
In addition (as pre-announced on 29 June), GigOptix is raising its initial revenue guidance for full-year 2015 from $37.5m to at least $39m (up 20% on 2014's $32.9m). "Overall, we expect 2015 to yield the highest annual revenue, best profitability and largest cash generation from operations in our history," says Katz.
"Our expanded product base for 100Gb/s and higher speeds put us in a prime position to be a key supplier when the telecom metro build-out commences," believes Katz. "We continue to hear from our customers that this build is coming with a target date of no later than the first half of 2016. This build-out offers a vast revenue opportunity for us in the next year to come," he adds.
During Q2, GigOptix announced a significant booking of $7.9m to ship ASIC products a large aerospace & defense contractor through early 2017. "The shipments will occur in roughly equal instalments during this timeline," notes Katz. "We have also added this quarter new designs in the automotive and GPS markets, which we see growing and supporting continuous development of this product line through the balance of 2015 and 2016," he adds.
"By leveraging our value-add ASIC solutions using our portfolio of analog and digital IPs for various applications, as well as RF and optical device knowledge that resides within our High-Speed Communications business, we continue to serve and develop new businesses with our existing customers while at the same time acquiring new accounts and establishing an emerging government and commercial market," concludes Katz.
GigOptix raises revenue guidance by 5% to $9.8m for Q2
GigOptix reports record income in Q1
GigOptix reports record profit in Q4, and first ever annual non-GAAP profit
GigOptix's revenue rises 6% in Q3, driven by telecoms growth of 49%
GigOptix's revenue grows more-than-expected 9% in Q2 to $8m, as datacoms exceeds telecom for first time
Tags: GigOptix
Visit: www.gigoptix.com