16 July 2015
Perovskite PV market to reach $214m in 2025
In the emerging photovoltaic technology sector, the energy conversion efficiency of perovskite solar cells have has improved incredibly quickly, from just 2% in 2006 to over 20.1% in 2015, according to IDTechEx Research's report 'The Rise of Perovskite Solar Cell 2015-2025: Technology, Status and Market', which forecasts that the perovskite PV market will reach $214m in 2025.
Growth will come in the utility (tandem/hybrid cells) and smart window/BIPV (building-integrated PV) applications. However, the take-off will be slower than many anticipate as the technology is not yet production ready and still grapples with issues such as stability and lead toxicity (since alternatives to lead have low efficiency), says the report.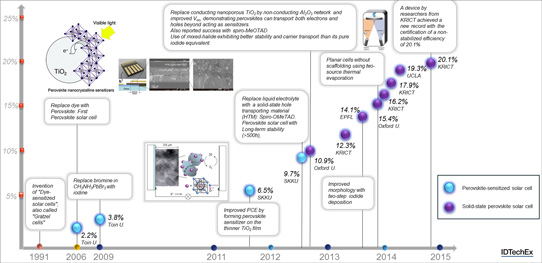 Picture: Perovskite solar cell development timeline.
A winner arrives out of the blue?
The dramatic increase in efficiency has also put pervoskites on a par with leading thin-film PV technologies such as cadmium telluride (CdTe), copper indium gallium (di)selenide (CIGS) and amorphous silicon (a-Si).
This efficiency improvement also means that pervoskites have already surpassed the likes of organic photovoltaics (OPVs), dye-sensitized solar cells (DSSCs) and a-Si, which have been on the market for some time. Indeed, this has led to the plug being pulled on R&D efforts on OPVs and DSSCs as the community has switched to perovskites en-masse.
Since perovskite materials have a wide bandgap, this creates an opportunity in pairing them up with low-bandgap photovoltaic technology. This can yield several extra efficiency percentage points, which will make a difference in a highly competitive market where system costs depend on efficiencies, says IDTechEx.
In parallel to this, perovskite solar cells offer additional value propositions including: flexibility, semi-transparency, tailored form factors, thin film, light weight, and processing costs. These features are already set to erode much of the uniqueness of its rival technologies, which may make life even harder for applications already pushed to the niche corners of the markets, believes IDTechEx.
Opportunity to solve technology problems
However, the technology is not commercially ready yet. Even the device architecture is in a state of flux. Indeed, the original perovskite started as a simple variant of DSSCs in which a perovskite was just a dye, but the device structure is evolving out of the mould of DSSC into a new and potential planar architecture system.
The lead toxicity raises the market barrier to entry and adoption risk, particularly in Europe, says IDTechEx. Lead-free versions already exist, but lead substitution incurs a severe penalty in cell efficiency. The trade-off is currently too steep, but research in the pipeline is promising.
Another issue is lifetime, which is a particular challenge because the target applications (such as utility and BIPV) demand long lifetimes.
The instability issues are not yet fully understood. If they are extrinsic, then they can be managed by isolating the system using high-performance barriers such as glass or flexible versions being developed for other applications such as OPVs and OLEDs. If they are intrinsic, then new material systems will have to be developed.
Imec reports record perovskite thin-film PV module efficiency of 11.3%
Imec reports perovskite PV module with 8% efficiency
Oxford PV secures £8m in first-tranche round B funding
Tags: Thin-film PV
Visit: www.IDTechEx.com/perov