8 July 2015
Peregrine promotes director of RF process technology to vice president
Peregrine Semiconductor Corp of San Diego, CA, USA - a fabless provider of radio-frequency integrated circuits (RFICs) based on silicon-on-insulator (SOI) - has promoted Alain Duvallet to vice president of RF process technology. Duvallet has been an integral part of Peregrine since March 2010, previously serving as director of RF process technology.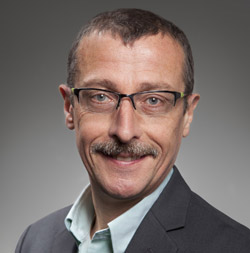 Picture: Alain Duvallet, Peregrine's vice president of RF process technology.
"In his five years with Peregrine, Alain has demonstrated his leadership abilities and technical expertise by overseeing several successful launches of UltraCMOS technology generations," says Mark Miscione, VP of RF technology solutions & quality assurance. "Alain and his team's most recent accomplishment was this week's introduction of UltraCMOS 11 technology, the industry's first RF SOI 300 mm technology platform."
Duvallet will continue to lead Peregrine's technology development team and will advance the UltraCMOS technology platform to support the firm's two business units — mobile wireless and high-performance analog.
Prior to joining Peregrine, Duvallet spent 28 years with Motorola and Freescale Semiconductor. He holds engineering degrees from Ecole Superieure d'Electricite and Ecole Polytechnique in Paris, France.
Peregrine launches first 300mm RF SOI technology platform
Tags: Peregrine CMOS SOI RF switches
Visit: www.psemi.com