27 July 2015
Plessey expands dotLED range for wearables CSP versions
UK-based Plessey has expanded its dotLED range (designed specifically for wearable applications) with a wider selection of colors, including red, green and blue. The extremely small LED die have a footprint of only 0.2mm x 0.2mm, suiting low-profile electronic wearable applications.
"We continue to win designs in the growing market for wearables and are now producing millions of LEDs every month," says VP of sales Giuliano Cassataro. "Our dotLED product range addresses the optical, mechanical and cost requirements for the typical wearable applications. These include wristbands trackers for health and fitness as well as many other applications for dot matrix displays," he adds.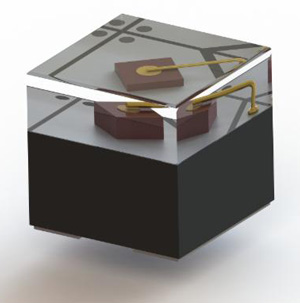 Picture: Plessey's CSP-300 dotLED blue.
The white dotLED is available in a 1005 SMT package (1.0mm x 0.5mm) - a standard electronic component size easily handled by standard surface-mount machines used in high-volume, consumer electronics manufacturing.
Delivering up to 1.0lm of white light with a 130 degree viewing angle from a 5mA drive current, the PLW13D003 meets the demand for ever smaller displays, says the firm. A blue version (the PLB13D003) is also available in a variety of wavelengths from 460nm to 480nm.
"The increasing popularity of our dotLEDs has led us to develop our first chip-scale package (CSP) solution around the fit and performance of this product range," says chief technology officer Dr Keith Strickland. "Samples for this even smaller form factor will be available September this year in a selection of temperatures and colours."
Plessey's dotLED named as one of EDN's Hot 100 Products of 2014
Plessey launches 1005-size SMT-packaged LEDs for wearable electronics
Tags: Plessey GaN-on-Si HB-LEDs
Visit: www.plesseysemiconductors.com/led-plessey-semiconductors.php