23 July 2015
Solar Frontier accepts Intersolar Project Of The Year award
Tokyo-based Solar Frontier – the largest manufacturer of CIS (copper indium selenium) thin-film photovoltaic (PV) solar modules – has accepted the Intersolar North America Project of the Year Award for the 143.2MW Catalina Solar Project (the largest CIS installation in the USA), which includes 82.5MWp of Solar Frontier's CIS modules. The award recognizes landmark projects that exemplify technological innovation, uniqueness, economic feasibility, and benefit to the environment and society.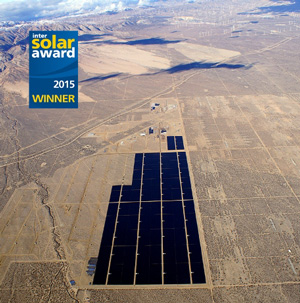 The Catalina Solar Project.
Developed by EDF Renewable Energy and located in the Mojave Desert in Kern County, Southern California, the Catalina Solar Project employed more than 500 workers onsite during construction.
The project was built by Bechtel Power Corp in a rugged desert terrain known for its extreme climatic conditions. Solar Frontier says that its CIS module technology is less impacted by these temperatures and can deliver higher energy yields than conventional crystalline silicon modules.
"It is another example for investors and project developers to take note of the strength of our technology's performance and our growth in the US market," comments Charles Pimentel, chief ooperating officer of Solar Frontier Americas.
Tags: Solar Frontier CIS thin-film PV modules
Visit: www.solar-frontier.com/eng/casestudies/caselist/C046970.html