9 July 2015
Thermco launching major upgrade for vertical furnace systems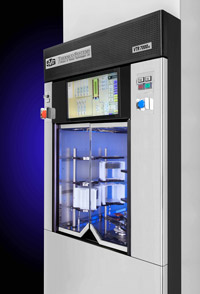 Picture: Thermco Systems' VTR 7000XE.
At the Semicon West 2015 event in San Francisco, CA, USA, Thermco Systems (a division of Tetreon Technologies Ltd of Washington, West Sussex, UK that designs and manufactures furnace systems, custom wet benches and chemical handling equipment) is launching the VTR 7000XE as a new technology platform for semiconductor vertical furnaces.
The new product enables production customers using older SVG Thermco 6000/7000 vertical furnaces to replace all of the now obsolete process, communications and automation control systems. The highly successful VTR 7000 Series product range is still used in production semiconductor fabs worldwide.
"We have listened to our production customers who want to extend the life of their existing VTRs but need modern and robust PC-based control systems and user interfaces for older vertical furnace systems," says CEO Gerry Thurgood. "The introduction of the VTR 7000XE platform not only upgrades the process and automation controls but also provides new features such as SPC [statistical process control] equipment monitoring," he adds.
Tags: Thermal processing systems
Visit: www.thermcosystems.com