3 June 2015
TU/e's integrated nanoLED processing results win Oxford Instruments' SEM competition
The nanoLED SEM image (pictured) by Eindhoven University of Technology (Technische Universiteit Eindhoven, or TU/e) in The Netherlands recently won a competition held by UK-based Oxford Instruments Plasma Technology (OIPT), and chosen from a large number of entries, all demonstrating unique process results obtained using Oxford Instruments equipment.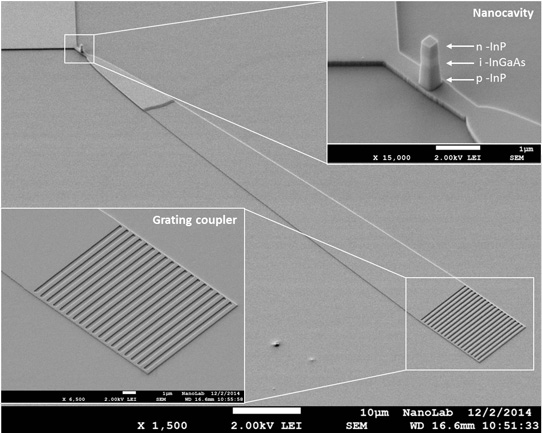 Picture: TU/e's integrated nanoLED for photonic circuits.
Submitted by PhD candidate Victor Dolores-Calzadilla of TU/e's Photonic Integration Group (who won £150 in Amazon vouchers for his entry), the SEM image (titled 'Integrated nanoLED for photonic circuits') was achieved using a combination of three Oxford Instruments plasma processing tools. The image demonstrates the plasma etch and deposition technology that Oxford Instruments Plasma Technology's systems offer the LED fabrication market, says the firm.
"We're currently researching metal-cavity nanolasers and nanoLEDs using Oxford Instruments systems for their fabrication," says Dolores-Calzadilla. "This nanoLED is just one example of the excellent results we are achieving using a combination of Oxford Instruments Plasmalab100 RIE, ICP and PECVD tools," he adds.
"We are delighted to showcase the work of our customers, and to view the intricate processes produced with our systems," comments Dr David Haynes, sales, marketing & CS director at OIPT. "This competition was a fantastic insight into the multiple uses of our technology."
NanoLab@TU/e adds OIPT plasma etch & dep systems
Visit: www.phys.tue.nl
Visit: www.oxford-instruments.com/SEM-2015