22 June 2015
Solar Frontier constructing 9MW of projects in Kyushu, Japan
Tokyo-based Solar Frontier - the largest manufacturer of CIS (copper indium selenium) thin-film photovoltaic (PV) solar modules – has started construction of five solar projects totaling about 9MW on Japan's Kyushu island: the 2.5MW Tsunemi Power Plant 1, 5MW Tsunemi Power Plant 2 and 1MW Tsunemi Power Plant 3 in Fukuoka Prefecture, the 2MW Higashi-Kushira Power Plant in Kagoshima Prefecture, and the 1MW Saito Power Plant in Miyazaki Prefecture.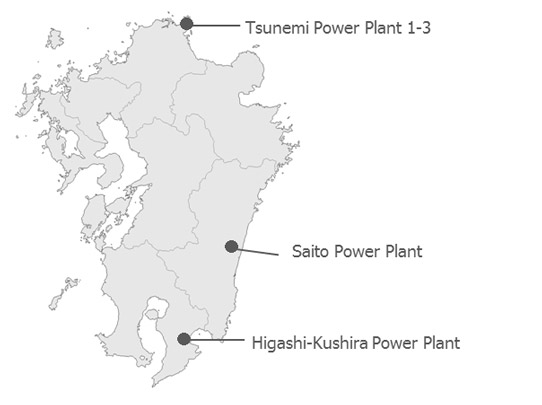 The five solar projects on Kyushu.
The projects are all high voltage and are managed by SF Solar Power, a joint investment company formed in 2013 with the Development Bank of Japan. They involve multiple landowners and are due to become operational from around November, with their entire output being sold to Kyushu Electric Power.
"Solar Frontier has firmly established its project development business in Japan and today we are bringing on-stream a new portfolio of high-return, low-risk CIS solar power plants in Kyushu," says CEO Atsuhiko Hirano. "These projects are optimized by leveraging the high yield of our CIS technology, our manufacturing excellence in Japan, and our integrated project development solutions," he adds.  
To date, SF Solar Power has implemented solar power projects throughout Japan, notably an 11.6MW project at Kansai International Airport (one of the largest airport-based solar projects in Asia) and a 4.4MW project at a plant belonging to the Suntory Group. The new projects in Kyushu are the next step in this series.
Following completion of the Kyushu projects, Solar Frontier's project development team in Japan will continue to provide added-value services, including operation and management (O&M).
Tags: Solar Frontier CIS thin-film PV modules
Visit: www.solar-frontier.com