25 March 2015
Avago launches compact 4x10G TOSA and ROSA for 40G LR4 Lite applications in large-scale data-center networks
Avago Technologies Ltd (which designs and supplies III-V-based analog interface components for communications, storage, consumer and industrial applications) has announced the availability of its new 40GE-LR4 Lite transmit optical subassembly (TOSA) and receive optical subassembly (ROSA). The AFCP-CT4X10D and AFCP-CR4X10P, respectively, are designed for use in a quad small-form-factor pluggable (QSFP) transceiver module, providing long-range 40GbE interconnects for routers and switches in large-scale data-center networks.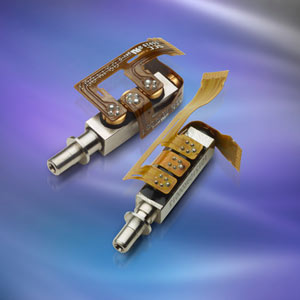 The AFCP-CT4X10D TOSA delivers four coarse wavelength division multiplexed (CWDM) wavelengths in the 1310nm window on a single optical output. With a footprint of 15.9mm x 6.35mm and a height of 4.8mm, the device integrates four high-reliability, high-performance uncooled 10Gbps directly modulated lasers (DML), an optical multiplexer to combine the laser wavelengths, and four PIN photodetectors for back-facet power monitoring. The average TOSA launch power is over -5.0dBm (per channel).
With a footprint of 15.8mm x 5.00mm and a height of 4.4mm, the AFCP-CR4X10P ROSA integrates an optical de-multiplexer to separate four incoming CWDM wavelengths using four high-reliability, high-performance 10Gbps PIN photodetectors with integrated transimpedance amplifiers (TIA). The average ROSA receiver sensitivity is under -13.5dBm (per channel).
The temperature range of both devices is -5°C to +75°C. Link distances are up to 2km at 4x10.3125Gbps over standard G.652 single-mode fiber (SMF).
"The introduction of our new 40GE-LR4 Lite TOSA and ROSA reinforces Avago's continued commitment to providing high-performance, cost-effective component solutions for data-center applications," says Stefan Rochus, director of Optical Components product marketing. "Leveraging Avago's proven indium phosphide (InP) laser technology - with over 1 trillion device service hours in the field - and low-cost component packaging infrastructure, these new TO-can based TOSA and ROSA enable more compact transceiver solutions while lowering system power consumption and costs for next-generation data-center networks," he adds.
Avago is showcasing the 40GE-LR4 Lite TOSA and ROSA in booth 1567 at the Optical Fiber Communication conference & exposition (OFC 2015) in Los Angeles (24-26 March).
Avago is currently ramping up production of the AFCP-CT4X10D and AFCP-CR4X10P and accepting orders for the new products.
Visit: www.ofcconference.org
Visit: www.avagotech.com/pages/en/fiber_optics/
Visit: www.avagotech.com/pages/en/fiber_optics/