25 March 2015
Avago launches Micro-ITLA for coherent DWDM in 100G/400G transmission systems
Avago Technologies Ltd (which designs and supplies III-V-based analog interface components for communications, storage, consumer and industrial applications) has announced the availability of its new AFCU-UITLAXX micro-integrated tunable laser assembly, a high-performance, narrow-linewidth Micro-ITLA designed for both the transmission and local oscillator laser in coherent dense wave division multiplexing (DWDM) systems.
Based on Avago's proprietary external-cavity laser (ECL) technology and proven indium phosphide (InP) and silica-on-silicon chip technology and packaging platform, the new Micro-ITLA delivers a very narrow linewidth, low phase noise and what is claimed to be superior frequency accuracy (with a fine tuning frequency range of +/-6GHz), improving system performance by reducing signal-to-noise penalties. With no moving parts, the device achieves excellent operational shock and vibration resistance.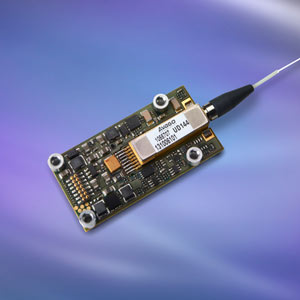 Besides its narrow linewidth (<100kHz), the Micro-ITLA features high optical output power, off-grid tuning capability, and a gridless channel plan (with a user-defined optical frequency channel enabling Flex-grid or Gridless architecture). The device also features in-operation wavelength and power adjustment capability (with variable optical power tuning, ranging from +8dBm to +16dBm) suitable for applications in 100G PM-QPSK and 200G 16-QAM modulation formats. The device conforms to the OIF Micro-ITLA implementation agreement. With only one-third the size (a form factor of 20mm x 40mm x 7mm) and 25% less in electrical power consumption (<3.5W at 16dBm, 75°C) compared to the industry-standard large-form-factor ITLA, the new Micro-ITLA enables users to migrate to smaller-size optical line-card solutions or pluggable transceivers for next-generation 100G and 200G/400G transmission systems.
"The availability of high-performance, narrow-linewidth Micro-ITLA like the Avago AFCU-UITLAXX shall help accelerate the deployments of 100G and 400G transmission systems," says Stefan Rochus, director of Optical Components product marketing. "Leveraging Avago's volume proven optical and packaging technologies, our new Micro-ITLA enables transceiver and line-card manufacturers alike to deliver high-performing and more efficient coherent DWDM solutions," he adds. 
Avago is showcasing the Micro-ITLA in booth 1567 at the Optical Fiber Communication conference & exposition (OFC 2015) in Los Angeles (24-26 March).
Avago is ramping up production of its C-band tunable AFCU-UITLAXX now, with L-band tuning capability becoming available in second-half 2015.
Visit: www.ofcconference.org
Visit: www.avagotech.com/pages/en/fiber_optics/optical_components/