17 March 2015
Avago samples first production-worthy 100G QSFP28 SR4 and CFP4 LR4 transceivers
Avago Technologies Ltd (a designer and supplier of III-V-based analog interface components for communications, storage, consumer and industrial applications) has announced sample availability of its 100G QSFP28 SR4 and CFP4 LR4 transceiver module devices.
The AFBR-89CDDZ QSFP28 transceiver is designed for 100 Gigabit Ethernet (100GbE) short-range data-center interconnects, compliant with IEEE 802.3 100GBASE-SR4 and 100m multi-mode fiber media.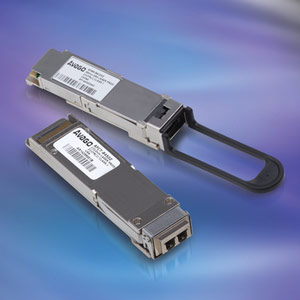 The AFCT-8450Z CFP4 transceiver is designed for 100GbE long-range data communications, compliant with IEEE 802.3 100GBASE-LR4 and 10km single-mode fiber media. The AFCT- 8450Z is also compliant with OTN/OTL4.4 data applications.
"Avago is the industry leader in providing high-speed optical interconnects utilizing proprietary short-wave parallel optic and long-wave WDM technologies," claims Philip Gadd, senior VP & general manager of Avago's Fiber Optics Product Division. "The availability of 100G QSFP28 and CFP4 transceivers shall enable broad adoption of 100GE fiber links for data centers and accelerate the transition of data networks to 100G speeds to meet the ever increasing demand for bandwidth," he adds.
Avago is showcasing the AFBR-89CDDZ and AFCT-8450Z in booth 1567 at the Optical Fiber Communication conference & exposition (OFC 2015) in Los Angeles (24-26 March). The firm is sampling both the AFBR-89CDDZ and AFCT-8450Z and accepting orders now.
Tags: Avago 100G optical modules QSFP28 CFP VCSELs
Visit: www.ofcconference.org
Visit: www.avagotech.com/pages/en/fiber_optics/ethernet/100
Visit: www.avagotech.com/pages/en/fiber_optics/ethernet/100_gigabit