9 March 2015
GaN Systems signs Websolus as distributor in South Korea and China
GaN Systems Inc of Ottawa, Ontario, Canada, a fabless producer of gallium nitride (GaN)-based power switching transistors based on its proprietary Island Technology for power conversion and control applications, has signed a distribution deal with Seoul-based global group Websolus.
Listed on the Korea New Exchange (KONEX), with 13 Branch Offices in Korea, China, & Thailand, Websolus specializes in three major business sectors: IT consulting & systems integration for power grid; water & energy systems solutions for global infrastructure; and procurement & distribution for electronic components.
GaN Systems claims to be the first company to have brought a comprehensive range of gallium nitride power switches with current ratings from 8A to 220A to the global market. The distribution agreement with Websolus covers South Korea, China, and Thailand.
Websolus has in-depth knowledge of key customers in the region and will support them locally as they become early adopters of GaN devices in their new products, says GaN Systems' president Girvan Patterson. "The significant advantages [over over traditional silicon MOSFETs and IGBTs] offered by gallium nitride power transistors – smaller, lighter and far more efficient power electronics – will help drive innovation in the many products manufactured in the region, including consumer electronics," he adds.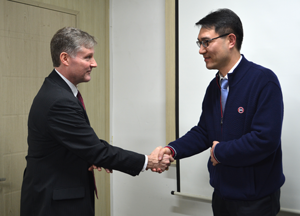 Picture: Charles Bailley, GaN Systems' senior director, marketing & sales Asia (left) and Websolus' CEO Kim Hong-sik (right).
GaN Systems has quickly become the leading choice for GaN devices among tier1 companies in automotive, industrial, enterprise and consumer segments, says Websolus' CEO Kim Hong-sik. "Our companies share a common objective of providing solutions which significantly improve energy efficiency," he adds. 
"Websolus has already proven to be a valued partner in Korea, and we are looking forward to expanding this partnership into China," says Charles Bailley, GaN Systems' senior director, marketing & sales, Asia. "Both GaN Systems and Websolus have strong penetration within industrial and enterprise markets, and together we are also penetrating automotive and consumer markets in Korea and China".
GaN Systems adds Ecomal Europe as distributor of GaN power switching transistors
GaN Systems appoints Daito Electron as Japan and Korea distributor

GaN Systems signs exclusive worldwide distribution deal with Mouser Electronics

Tags: GaN Systems Power electronics
Visit: www.gansystems.com