25 March 2015
IQE second-half 2014 revenue up 15% on first-half
After giving an unaudited trading update for full-year 2014 in late January, epiwafer foundry and substrate maker IQE plc of Cardiff, Wales, UK has confirmed revenue in line with expectations, at £112m. This is down 11.7% on 2013's £126.8m, due to the industry-wide inventory correction, foreign exchange (about 5%), and lower underlying growth in demand for wireless wafers.
"After several years of strong growth, in 2014 the wireless market paused for breath ahead of the next wave of hardware innovation," explains IQE. "Combined with an industry-wide destocking, this volatility created a short-term challenge. We tackled this head on and delivered increasing underlying profitability and earnings, as well as strengthening our balance sheet as a result of lower deferred consideration and net debt," the firm adds.
For full-year 2014 (in constant currency), Wireless revenue fell by 12% year-on-year, from £107.2m in 2013 to £89.1m. Electronics revenue has risen from £0.87m in 2013 to £1.14m. Photonics revenue has grown organically by 23% (more than the expected 20%) from £18.7m in 2013 to £21.8m. This was driven primarily by rapid adoption of vertical-cavity surface-emitting laser (VCSEL) technology by tier-1 customers into a wide range of applications (from data-centers through to industrial processes), helping to drive a 30% rise in (non-IR) lasers and sensors revenue, to £12.3m. There is solid data infrastructure demand, and consumer product design-ins continue to grow, says IQE. "This ramp is at an early stage and has a long and sustainable future," it adds. The Infrared division is winning significant orders, driving revenue up 13% to £9.3m. Revenue from the Solar (concentrated photovoltaic, CPV) business was £0.2m (after receiving the first orders in fourth-quarter 2014).
"Demand from our customers across multiple product areas strengthened through the year," notes president & CEO Dr Drew Nelson. "We enjoyed a significant pick up during the second half which enabled us to deliver improved second-half revenues [£60m, up 15% on £52m in first-half 2014]," he adds. In particular, for the Wireless business (IQE's largest division, with an estimated global market share of more than 50%) enjoyed double-digit sequential growth in second-half 2014 over first-half 2014, driven by the proliferation of increasingly complex wireless communication devices and systems such as LTE/4G, dual-band WiFi, and GPS location devices (which require increasingly complex compound semiconductor solutions).
"As a result of reduced overheads and improving utilization of our manufacturing facilities, we achieved better margins and delivered increased full-year earnings and cash flows," says Nelson.  
Due largely to cost reductions and improved efficiencies, adjusted gross margin rose strongly from 22% in 2013 to 28.2% in 2014. Correspondingly, adjusted operating profit has risen by 21% from £14.6m to £17.6m. Adjusted operating margin has risen from 11.5% to 15.7%. Adjusted fully diluted earnings per share (EPS) is up 21%, from 2p in 2013 to 2.42p.
Cash generated from operations rose by 21% from £16.2m to £19.6m. Meanwhile, cash investments shrank by £0.7m from £10.1m to £9.4m, reflecting reduced spending on property, plant and equipment (down £2m) offset partly by higher spending on product development (up £0.6m) and new IT systems (up £0.7m). Reflecting the net cash generation, net debt has hence been cut by £3.2m (9%), from £34.4m at the end of 2013 to £31.3m.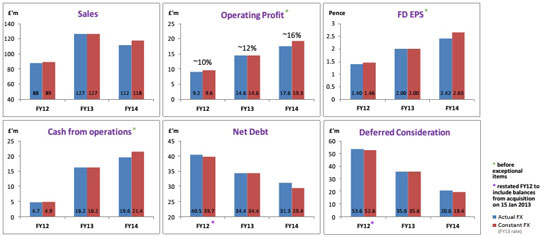 "We are making good progress against our strategic objectives," says Nelson. "Our wireless business continues to provide a solid platform, whilst our other markets are delivering encouraging revenue growth and are helping us to diversify our revenues." 
Wireless outlook is robust, driven by adoption of 4G LTE for mobile devices and the continuing growth in mobile data, says IQE, as customer and supplier capacity expansion programs reflect continued confidence within the industry. Compound semiconductor solutions continue to dominate power amplifier (PA) production, the firm adds.
IQE's Solar business (CPV) has moved into pilot production, with material being deployed into the field in January. Although this was later than originally anticipated, the future for this business remains bright, reckons IQE, as end-market pull should see this ramp into full production through 2015/16.
Conversely, IQE says that its Power business has progressed more rapidly than originally expected, with some major technical milestones and commercial partnerships establishing it in a strong position to commercialize the technology. In particular, gallium nitride (GaN) is making strong technical progress in both RF for LTE base-station deployment and in power for energy-efficient switching, says IQE, citing the major supply agreement with M/A-COM Technology Solutions Inc of Lowell, MA, USA to deliver 200mm-diameter gallium nitride on silicon (GaN-on-Si).
"Trading in the first three months of the current year has been in line with our expectations," says Nelson. "The outlook remains positive [with strong prospects driven by the group's diversification strategy], which underpins the board's confidence that we remain on track to achieve our expectations for the full year," he adds. "We anticipate that we will continue to benefit from strong cash flows."
Compound Semiconductor Development Centre JV in Singapore agreed with WIN and NTU
Following a memorandum of understanding (MOU) signed last September, on 23 March IQE entered into a joint venture agreement with Taiwan's WIN Semiconductors Inc (the world's largest pure-play gallium arsenide foundry) and Singapore's Nanyang Technological University (NTU) to create the Compound Semiconductor Development Centre (CSDC) in Singapore. As a center of excellence for compound semiconductor technology, the aim is to accelerate the development of new compound semiconductor technology, and to provide an effective incubator for bringing new innovations to market.
IQE has a 50% equity stake in the new venture and, as part of its contribution to the establishment of CSDC, the firm is setting aside its Singapore facility and providing certain equipment and IP on favourable terms. In return, IQE will be the wafer provider to new high-volume applications that emerge from CSDC.
IQE agrees MOU with WIN and Nanyang for Singapore centre of excellence
IQE increases underlying profit in first-half 2014 despite 17% year-on-year drop in revenue
IQE's first-half revenue down 17% year-on-year to £52m, but profitability up
IQE's revenue and profits rise strongly, driven by robust wireless business and diversification
IQE expects revenue growth of 43% for 2013 to record £126m
Tags: IQE
Visit: www.iqep.com