26 March 2015
Lumileds launches LED for single-source beam control in directional lamps
Philips Lumileds of San Jose, CA, USA has launched the LUXEON 5258 LED, which offers directional lamp makers what is said to be a more affordable LED option for single-source beam control. The multi-die emitter enables the most cost-effective design of PAR 16, PAR 20, MR16 and GU10 lamps using existing drivers at 24V and 96V, claims the firm.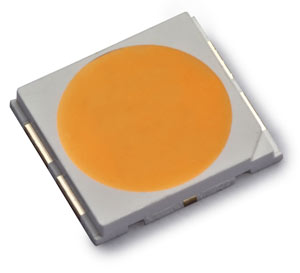 P:icture: LUXEON 5258 multi-die emitter. 
"We are providing a high-flux, high-efficacy LED that improves the quality of light and avoids the unfortunate 'showerhead effect' that users experience with distributed, multi-die solutions," says product manager Ahmed Eweida. "The LUXEON 5258 can achieve lower system costs compared to solutions using multiple LEDs for 35W and 50W MR16 today," he adds.
Designed to provide the best efficacy and flux metrics with superior reliability and droop curve than competing solutions on the market, Lumileds' initial offering of the LEDs in the 5258 plastic package is in warm-white correlated color temperatures (CCTs) with a minimum color rendering index (CRI) of 80. The 24V solutions provide a luminous flux of 425 lumens at an efficacy of110lm/W, while the 96V solutions provide 400 lumens at 105lm/W. However, both can be driven to deliver up to 650 lumens. A 5mm-diameter optical source enables precise beam control in directional applications.
Tags: Lumileds
Visit: www.philipslumileds.com