26 March 2015
Soraa launches PAR20 LED lamp
Soraa Inc of Fremont, CA, USA, which develops solid-state lighting technology built on 'GaN on GaN' (gallium nitride on gallium nitride) substrates, has added to its full-visible-spectrum LED product portfolio by launching a PAR20 lamp with high CBCP (center-beam candle power), flawless beam definition and edges, and outstanding color and whiteness rendering, it is claimed. Suitable for both commercial and residential applications, the PAR20 features the firm's Point Source Optics and Violet-Emission 3-Phosphor (VP3) Color and VP3 White technologies, providing a replacement for 75W to 90W legacy products.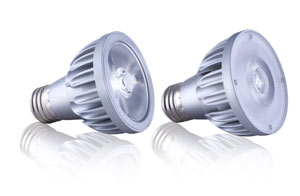 Picture: Soraa's PAR20 LED lamps.
"The PAR20 provides unmatched color quality with our VP3 technology and superior optics with our Point Source Optics technology, while still delivering 85% energy-efficiency over standard halogen lamps," claims George Stringer, senior VP of America sales & marketing. 
The Point Source Optics technology enables the firm to offer the only 10° narrow-spot version of a PAR20 LED lamp while delivering a CBCP almost double that of its nearest competitor, it is claimed. The optics produce high intensity and uniform beams and are available in four beam angles including 10°, 25°, 36° and 60°. With a color-rendering index (CRI) of 95 and deep red (R9) rendering of 95, the 10.8W PAR20 outperforms not only halogen counterparts but also its LED competitors too, the firm reckons.
The firm's Violet-Emission 3-Phosphor (VP3) LED technology allows for rendering of colors and whiteness. Utilizing every color, especially deep red emission, VP3 Vivid Color renders warm tones accurately. Also, unlike blue-based white LEDs without any violet/ultraviolet emission, the VP3 Natural White is achieved by engineering the violet emission to properly excite fluorescing brightening agents including natural objects like human eyes and teeth, as well as manufactured white materials such as clothing, paper and cosmetics.
The PAR20 LED lamps are offered in 75W (Vivid) and 90W (Brilliant) equivalents, and a 50W replacement option will also soon be available. The lamps are available in four color temperatures ranging from very warm white to cool (2700K, 3000K, 4000K and 5000K). Soraa claims to be the only lamp manufacturer that guarantees lamp-to-lamp color consistency to be within a 3-Step MacAdam ellipse for its PAR20 products.
The PAR20 Series is compatible with enclosed fixtures and suitable for damp operating environments. Additionally, all of Soraa's PAR20 10° LED lamps are designed to work with the firm's magnetic accessory SNAP system. With a simple magnetic accessory attachment, beam shapes can be altered and color temperature can be modified, allowing flexibility in design and display.
Soraa's LED optical light engine named Light Source of the Year; AR111 and MR16 LED lamps highly commended
Soraa's LED Optical Light Engine has been named Light Source of the Year at the Lighting Design Awards 2015. Also, in the same category, both the AR111 LED with SNAP System and Constant Current MR16 LED lamps were 'Highly Commended'.
Hosted at the London Hilton hotel on Park Lane, the Lighting Design Awards this year gathered more than 700 designers, architects and suppliers. The panel of judges included 28 professionals from all points of the specification and supply chain, including engineers, designers, specifiers, sales professionals and journalists.
Soraa's small, low-profile series of light engines feature an optical design that provides what is claimed to be flawless beam definition and smooth beam edges, as well as being customizable via the SNAP System. Designed for seamless fixture integration, the Optical Light Engines are compatible with a wide variety of industry-standard LED drivers and suit use in enclosed, non-ventilated indoor and outdoor fixtures.
The Optical Light Engines are available in three sizes 11, 16, 30 (diameters of 1.5" or 37mm, 2" or 50mm, and 4" or 100mm); lumen outputs of 500 or 1000lm (in 95CRI); beam angles of 9 and 10°, 25° and 36°; color temperatures of 2700K, 3000K, 4000K, and 5000K; and with an optional heat sink.
Soraa launches small-form-factor LED light engines delivering high CBCP and full-visible-spectrum light
Tags: Soraa GaN-on-GaN
Visit: http://awards.lighting.co.uk/the-winners-2015
Visit: www.soraa.com